District Health Educators to receive laptops and projectors to properly facilitate the training of Community Health Workers during COVID-19
Friday, February 19th, 2021
Last year, the European Union (EU) and the Pan American Health Organization/World Health Organization (PAHO/WHO) reallocated funds from the existing 'Health Sector Support Programme Belize Project' to assist in the country's response to COVID-19. Through this funding, nine (9) District Health Educators from the Ministry of Health and Wellness (MoHW) will receive laptops with cases and eight (8) projectors to strengthen the ability to train health workers at the community level.
The COVID-19 pandemic has brought on new challenges and changes to healthcare systems including disruptions in the delivery of healthcare services. This also includes the disruption in the continued training and education of healthcare professionals, especially at the community level.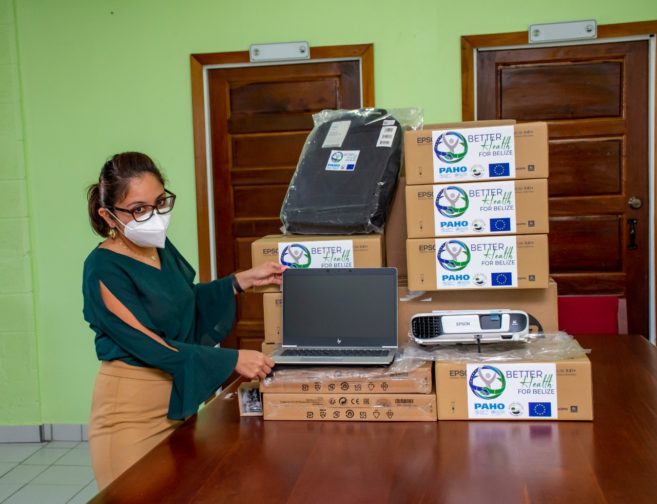 As COVID-19 has accurately shown, it is important for healthcare workers to stay skilled and trained in the services they provide. With the limitations, many countries are now living in, due to COVID-19, technology has become a major factor in ensuring the capacity of continued healthcare services including the training of health workers.
The District Health Educators, who receive the laptops and projectors, are all Senior Officers of the Health Education and Community Participation Bureau (HECOPAB). The donation of these items will enhance their skills and capacity to facilitate the training of the Community Health Workers (CHWs) in all six districts of Belize, with a focus on the areas of non-communicable diseases (NCDs) and COVID-19 prevention and control.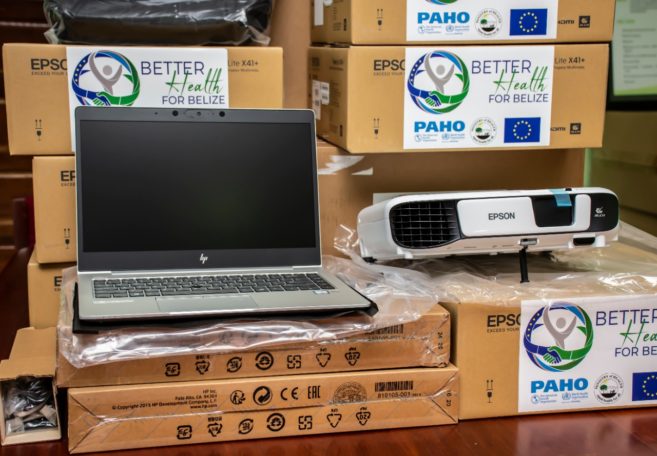 "They will complement the capacity of our District Health Educators in their interaction with Community Health Workers," said Dr. Melissa Diaz-Musa, Acting Director of Health Services of the MoHW. "Now more than ever, there is the need to sensitize and train CHWs to be able to promptly know what to do when they encounter persons who may be vulnerable to COVID-19. Chronic diseases are important risk factors. We shall ensure that the motivation of our CHWs is maintained."
PAHO/WHO Non-Communicable Diseases Technical Advisor, Dr. Jorge Polanco, handed over the donated items to Dr. Javier Zuniga and Ms. Kathleen Cho, who were grateful to receive them on behalf of Dr. Diaz-Musa and the Ministry of Health and Wellness.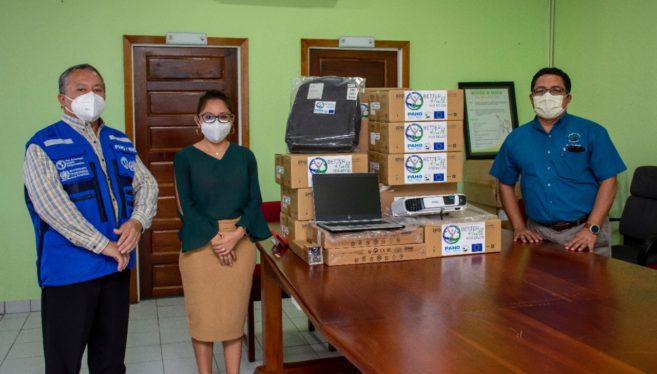 Through the 'Health Sector Support Programme Belize Project' reoriented funds, the EU and PAHO/WHO has been supporting Belize and the Ministry of Health and Wellness by enhancing national laboratory diagnostic capacity through purchasing of test kits, equipment and supplies, enhancing infection prevention and control, and improving healthcare and community engagement at the community level.
Follow The San Pedro Sun News on Twitter, become a fan on Facebook. Stay updated via RSS