MOHW investigating reports of false vaccination cards; police urge people to report anyone involved
Monday, August 2nd, 2021
Several reports of falsified and forged COVID-19 vaccination cards have prompted the Ministry of Health and Wellness (MOHW) to investigate these cases and refer them to the police. Similar reports are circulating in San Pedro Town of an individual selling these false documents for around US$100. Still, no arrests have been made. Police explained that due to legalities, a formal complaint must be filed before they can proceed. However, some may be hesitant to do so in fear of retaliation.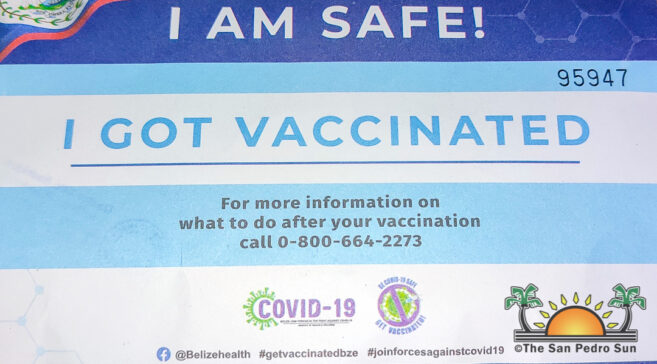 Reports can be filed at the police station. The fraudulent vaccine cards reported on the mainland are a scheme allegedly conducted by a few nurses. In San Pedro, the person in question is not believed to be part of the health department but appears to have authentic MOHW documents, raising the suspicion that persons within the health sector might be involved.
MOHW Minister the Honourable Michel Chebat advised the public to report any suspicious COVID-19 vaccination cards or documents to the nearest public health clinic or his ministry. These reports will then be analysed and forward to the police. Chebat strongly condemned this action and said that those involved in this scheme are disserving the person purchasing the fraudulent document and the entire nation. "Anyone who is not vaccinated exposes everyone, the undermining, the country; you are not helping that person, and for what? A hundred dollars, two hundred dollars?" said Chebat. "When someone gets sick, and they experience severe symptoms and are intubated, it costs over $46,000 per person at our public hospital. It goes into the hundreds of thousands at private institutions, and that person may lose their life. So how can someone benefit from buying a card?" The health minister stressed that the consequences could be severe. He advised those hesitant to take the vaccine to seek information from the health professionals, the people who can give them the correct answers to their questions.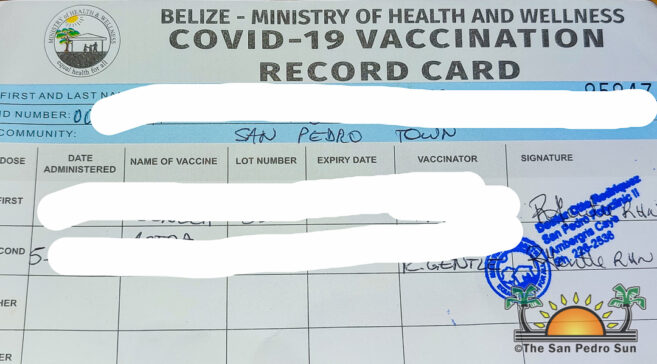 As the investigation continues into this disturbing matter, MOHW reminds the public and every public vaccinator of the Public Health Act Chapter 40, Revised Edition 2000, 162 (2), which states, "Every person who wilfully signs a false certificate or returns under this Part is guilty of an offense and is liable to imprisonment for a term not exceeding six months."
Islanders are encouraged to do the right thing and get vaccinated. It is the only way to fight the pandemic. Vaccinations continue at the San Pedro Lions Den on Barrier Reef Drive Monday to Thursday from 1PM to 3:30PM and on Friday from 8:30AM to 2PM.
Follow The San Pedro Sun News on Twitter, become a fan on Facebook. Stay updated via RSS