San Pedro Animal Hospital Cares for your pets
Saturday, February 28th, 2015
The San Pedro Animal Hospital is San Pedro's only private veterinary clinic. Open since December 2009, its mission is to offer on-going, modern professional veterinary care at affordable prices to residents and visitors of San Pedro Town.
The San Pedro Animal Hospital proudly provides full-time licensed veterinarian services. While it is a private business, the San Pedro Animal Hospital is dedicated to providing essential health care to all animals in need, and will work with any local rescue group or animal charity; offering substantial discounts on services.
Their resident veterinarian is DVM Patricia Kelly, who is a graduate with her Doctorate in Veterinary Medicine (DVM) from the University of Saskatchewan, in Canada. DVM Kelly's love for animals was instilled in her as a child and only grew as she matured. It was this love and passion to see all animals healthy that lead to her decision to become a veterinary doctor. In Canada, she gained much experience, working with small and large animals; from cows and horses to dogs and cats.
However she will proudly admit, "Dogs and cats are my favourite." Prior to relocating to Ambergris Caye, DVM Kelly gained international working experience, serving in places such as the United Republic of Tanzania. In search of a change, she jumped at the opportunity to join the San Pedro Animal Hospital. With her team made up of Abdy Rivas and Xiomara Tillett, who are long time and very dedicated assistants at the hospital, the San Pedro Animal Hospital is a full-service 24-hour veterinary hospital, offering routine vaccinations, deworming, health certificates, spaying and neutering.

The San Pedro Animal Hospital is proud to boast a full in-house veterinary diagnostic lab where tests such as complete blood counts (CBC), stool tests, heartworm tests, parvo tests and urinalysis can be conducted. In addition, our blood chemistry analyser can test your pet's liver, kidneys, electrolytes, blood proteins and more. Test results are within 15 minutes using only a few drops of blood. The San Pedro Animal Hospital is the only clinic in Belize with this new technology.
Other services they offer include general anaesthesia for emergency and routine surgeries such as tumour removals. They also provide after-hour emergency services for traumatic injuries and critical illnesses as well as 24-hour intensive care with IV fluids safely and reliably administered using an electronic IV pump. Their dedicated DVM Kelly also monitors overnight patients as needed. Other services include dentistry such as extractions and cleaning, grooming, bathing, flea and tick baths and medicated baths. They even do house calls!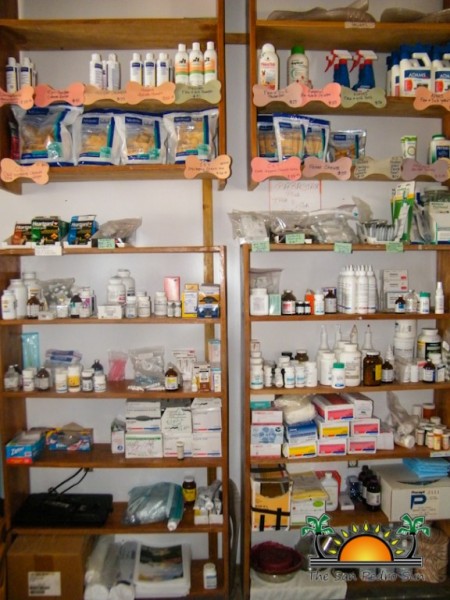 The San Pedro Animal Hospital cares deeply for the wellbeing of all pets. Through the San Pedro Animal Foundation, which promotes the health and welfare of domestic animals in Belize, the foundation provides spay/neuter services and veterinary care for animals in need. Recognizing the current problem of stray animals on the island, the Foundation gives back to the community by assisting families who have limited funds but demonstrate a genuine concern and care for their pet with the cost of spaying and neutering their pets. Other needs for financial assistance with medical expenses are considered by Foundation administrator Forrest Jones on a case by case bases. Once Jones has meet with the pet owner he determines the level of financial assistance the Foundation can provide.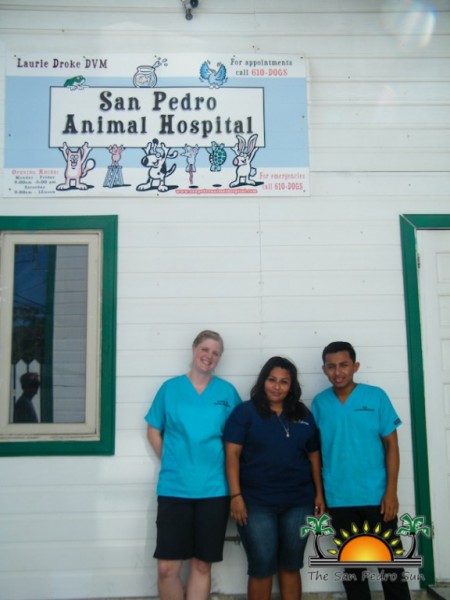 Through many challenges, the San Pedro Animal Hospital is a permanent source of professional veterinary care for Ambergris Caye's pets. They invite you to swing by and give them a visit. The San Pedro Animal Hospital is located in front of Pedro's Inn. Hours are Monday through Friday from 9AM -5PM and Saturdays from 9AM – noon. For an appointment or if you would like more information about their services please give them a call at 610-DOGS (3647).
Follow The San Pedro Sun News on Twitter, become a fan on Facebook. Stay updated via RSS