Tamanduas losing habitat due to major development
Saturday, April 15th, 2017
The daylight sighting of a Tamandua (anteater) has led concerned residents to claim that the increase in major development on Ambergris Caye is adversely affecting its flora and fauna. The nocturnal animal was reportedly spotted during early evening hours, and the witness fears that it could be captured for a pet, or worse, become injured by humans/dogs.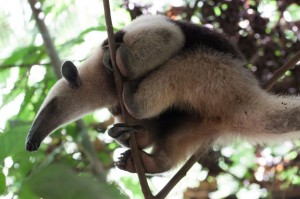 The San Pedro Sun spoke to Ella Baron, wildlife specialist at the Tamandua Refuge in the Cayo District. She also believes that major development in San Pedro is causing tamanduas to resort to unnatural habitats. "Unfortunately, development is causing these animals to become dislocated. The anteaters live on high trees, and because of the large building developments, tamanduas' natural habitats are disappearing. I believe that such massive and rapid construction is causing a lot of wildlife to [have to] get closer to humans. They get displaced, and disoriented. As a result, they can be attacked by humans, dogs or get hit by cars," said Baron.
While other animals would run away from danger, tamanduas try to protect themselves by standing up on their hind legs, using their tail as a support and holding their claws in a defensive position. They do not have teeth, and their defense mechanism can lead them to trouble. Tamandua/human conflict usually arises when people misinterpret the animal's defensive behavior. Common reactions are getting scared and lashing out at them in fear.
Baron also believes that tamanduas in San Pedro may be struggling to find food, hence the reason for the day-time sightings. "There is less and less food left, and this usually leads them to forage during the day. Their appearance during the day is just an indicator that they are having a hard time finding secluded habitats. So in search of food, it goes foraging during the day in proximity to human habitats," said Baron. Ants and termites are a crucial part of the tamanduas' diet, with some studies indicating that they need to eat up to 9,000 ants/termites per day. The tamanduas do not destroy the termites or ants nests, as they eat just for a few minutes from each nest before going to the next one. This allows the nests to recuperate instead of being destroyed, while allowing the tamanduas to be self-sustainable. Baron reiterated that tamanduas are important to society, as they keep a healthy and balanced population of termites and ants in the mangroves, as well as the rain-forest.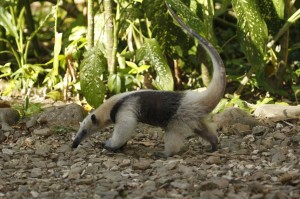 Baron mostly cares for injured tamanduas that come into conflicts with humans. She gets the necessary medical help from wildlife veterinary specialists, then treats and rehabilitates the animal before releasing it back into the wild. Over the past five years, the Tamandua Refuge has received three tamanduas from San Pedro, which have arrived with severe injuries due to human captivity. It took many months to bring them back to health before they were released.
As it is illegal to keep any wildlife as pets, Baron confirmed that there have been many cases where people have been known to keep tamanduas as pets. "Not only is it illegal to have a tamandua, but they require a very special diet, which is very difficult to recreate in captivity. So due to the lack of proper nutrition, they easily get sick and die. Sometimes people do not realize that the animals are suffering in their care, because they look so tough. This is why I don't condone people to have tamanduas, or any wildlife as pets. Tamanduas have the right to live in the wild, and it is simply cruel to keep them in captivity," said Baron.
She advises the public not to interfere with wildlife. Tamanduas may look adorable, but raising them without their mothers is impossible. Tamanduas' mothers are known to take care of their baby for up to a year, and no human can substitute this kind of care.
For more information on tamanduas, please email [email protected] or visit tamanduarefuge.org. If you encounter an anteater, or if it's an orphaned baby or an injured anteater, you can report it by calling the Belize Wildlife and Referral Clinic at 632-3257, 610-4347, or call the Belize Forestry Department at 822-1524. You can also call Saga Humane Society at 226-3266. They have been instrumental in dealing with injured tamanduas in the past.
Follow The San Pedro Sun News on Twitter, become a fan on Facebook. Stay updated via RSS