San Pedro Town observes Earth Hour
Wednesday, March 23rd, 2016
On Saturday, March 19th, San Pedro Town joined over 7,000 communities around the world in observing Earth Hour. In an effort to bring awareness to how climate change is affecting our planet, several environmental organizations around the world, including in Belize, held candle- light vigil walks. The activity was a symbolical petition, asking everyone to turn off their electricity for one hour and contribute to the well-being of a planet that is slowly dying from the effects of climate change.
The event was organized in San Pedro by Oceana in Belize, in collaboration with the San Pedro House of Culture and the Ministry of Youth Services.

A small group of people gathered at the Central Park shortly after 8:30PM armed with candles and a willingness to show love for their planet, began the vigil walk. The group walked north of Barrier Reef Drive, then down through Pescador Drive before heading to the House of Culture located on Black Coral Street. During the walk, many of the businesses continued their activities as per usual; however, the message to protect mother Earth was shared with them.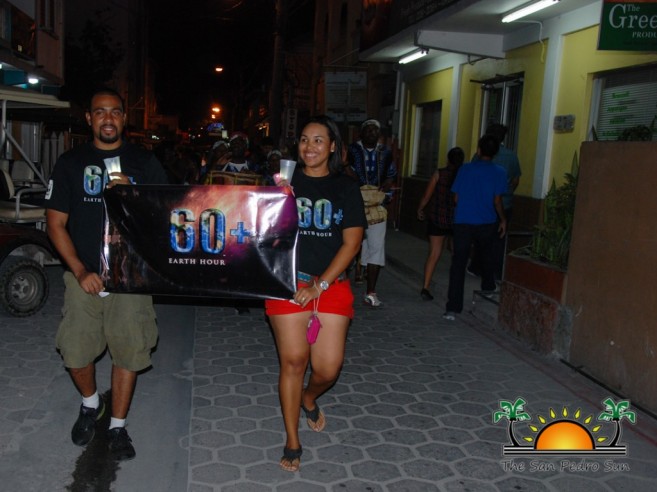 When the group arrived at the House of Culture, Roxy Perez from Oceana Belize thanked everyone for coming out. "I was happy to see you all come out tonight and show that you care for our planet," she said. "It's the only place we can survive, so it is very important to take things seriously and protect it."
Perez then invited everyone to stay as the entertainment segment of the activity began. The Black and White Charikanari performers delighted the crowd with a cultural presentation. Drumming, Jankunu dance and the Garifuna culture was exhibited in a well-choreographed manner.

The San Pedro Dance Company then took over with Meztiso-inspired performances. While the different groups were performing, snacks and refreshments were passed to the attendees. After the dance presentation in honour of Mother Earth, guests roasted marshmallows on a campfire set at the compound.
At the end of the event, a few organic and biodegradable sky lanterns were released into the sky. As a symbolic way to draw people's attention to the need for conserving the only place known in the universe to sustain life. "Let's continue doing our part in the conservation of our home planet, we can do this by conserving energy in simply ways like switching off non-essential lights," ended Perez.
Follow The San Pedro Sun News on Twitter, become a fan on Facebook. Stay updated via RSS