Get a Free Bumper Sticker and Save Wildlife – Boycott NCL
Saturday, September 2nd, 2017
Press Release – Boycott Norwegian Cruise Lines – August 31, 2017 – A campaign to Boycott Norwegian Cruise Lines (NCL) was launched, and members of the public, especially cruisers, are being offered free bumper stickers to show their support and solidarity with the wildlife of Belize.
People who take cruises love to travel and explore the world, just like other types of travelers. Many of Belize's first-time cruise passengers fall in love with the country and return year after year as long-stay tourists. Sadly, recent reviews of Norwegian Cruise Lines' Harvest Caye suggest that cruise passengers aren't getting that warm fuzzy feeling about Belize anymore and that's a bad thing for the cruisers as well as for Belize's future tourism prospects.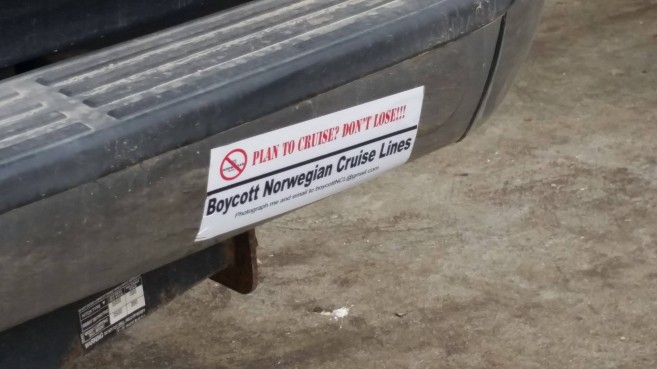 Not only is Harvest Caye a manufactured version of Belize, but it is host to a horrible animal side show featuring Belizean wildlife. The site is completely inappropriate, even for the health and welfare of captive-bred birds, but worse than that the toucans and macaws on display there came from the wild.
There are only two ways that native Belizean birds end up in captivity. They are either stolen from the forests by poachers or they become ill or injured and are rescued for rehabilitation. All wildlife belongs to the people of Belize and the country's wildlife laws are designed to protect wildlife from poaching and exploitation. Wild birds that require medical care or are recovered from illegal captivity are carefully assessed by experts for possible return to the wild. Big Red, one of the young Macaws currently at Harvest Caye, was under such an assessment, and there were plans in place for his journey back into the wild.

The releasing Big Red was particularly important as scarlet macaws are extremely rare in Belize. Poaching and habitat destruction has reduced the Belizean population to just a few hundred macaws. Not every bird is suitable for release like Big Red, so those birds make their home at the unique and wonderful conservation and education center, The Belize Zoo. Thousands of Belizean children and adults visit them there, where they are part of a programme to educate and raise awareness about the amazing rain forests of Belize.
On request, conservation groups advised Norwegian Cruise Lines how to operate a wildlife education center that would be informative and fun for their customers, but the cruise company opted to do something so dreadful that no one could have anticipated it.
While the Chief Forest Officer was out of the country, Big Red and another scarlet macaw were secretly whisked away and given to Norwegian Cruise Lines to be displayed along with four toucans – Belize's National Bird. All of these birds came from the wild. All of these birds belong to Belize and to Belizeans. Now they are in cages on a salty, windswept island, permanently captive for display to cruise ship passengers. Belizeans are not permitted to visit them. No official explanation has been given as to how or why this happened. Nor can anyone pin point who was ultimately responsible for making this happen. If it all sounds deeply suspicious to you, it probably is.
This is why a coalition of conservationists and activists have banded together to launch the Boycott NCL Campaign. It's easy to participate in, it's fun and it's for an excellent cause.
All you need to do is send your address to [email protected] and you will receive a free BoycottNCL bumper sticker in the mail. In return, you're asked to email back a photo of your vehicle sporting the BoycottNCL bumper sticker so that it can be sent to NCL and featured on the Boycott NCL Facebook page.
NCL need to understand that what they are doing is NOT acceptable!
If you cruise, don't lose. Boycott NCL
Follow The San Pedro Sun News on Twitter, become a fan on Facebook. Stay updated via RSS