Presidents of Neighborhood Watches meet with Ministers
Thursday, March 3rd, 2011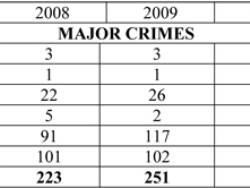 The monthly meeting of the Presidents of the various Neighborhood Watches around the Island was held on Saturday February 26th behind closed doors at the Mayor's Office. In attendance were all the presidents of the Neighborhood Watches; Hon. Manuel Heredia, Minister of Tourism and Civil Aviation and Culture; Hon. Doug Singh, Minister of Police and Hon. Peter E. Martinez, Minister of Human Development and Social Transformation along with CEO Ms. Judith Alpuche. Invited, but not in attendance was, Mayor Elsa Paz, Mayor of San Pedro. While the media was not invited to that meeting, Coordinator for the Neighborhood Watch's Presidents' Association, Mr. Stephen Spiro along with Forrest Jones, President of the Esmeralda Neighborhood Watch and Mr. Terry Colbert met with the various media houses on the island on Wednesday, March 2nd, to share the results of the meeting. On the agenda at the closed-door meeting were:
The need for a Social Worker
The use of Manifests onboard Water Taxis shuttling passengers to and from San Pedro / Belize
Streetlights
Presentation of 2010's Major Crime's Statistics
Residents on Ambergris Caye have been working towards acquiring a full time Social Worker since 2008. The presence of a full time Social Worker would take much strain off the Police Force when it comes to dealing with delinquent, battered and abused children as well as provide a well trained authority figure qualified to deal with troubled children. This individual would work with local authorities, truancy officer, as well as social workers who currently visit the island sporadically. In the meeting, Hon. Martinez assured the group that their plea for a full time Social Worker was heard, and that as of April 1st 2011, Mr. Adam Kay – bringing with him over 5 years of experience with the Ministry of Human Development and Social Transformation – will take up the task of being the island's full time Social Worker.
Apart from the full time social worker, there was also a discussion of recruiting families that would serve as foster homes for children in need of such services. Details of this program may be obtained by contacting Ms. Ava Pennil via email to [email protected]. Of notable mention is a new initiative in Belize by the present administration to allocate funding to assist qualified families with financial assistance to their children for school. While this program will not directly benefit families in San Pedro, it promises to grant much assistance to low income families in Belize.
The use of Manifests at boarding terminals for water taxis is nothing new to the table. In fact, this idea has been around for over five years. Whenever the topic is raised in the past, it has brought with it much controversy. Public figures have been slammed with accusations of racism, to say the least. However, as explained, the concept of using manifests is simply a safety measure. Not to say that it would not assist in criminal investigations – especially when investigating whether a suspected criminal was on the island at the time a crime was committed. But that would just be a plus. Manifests are currently being used on every airline flying onto the Island, as well as by water taxis travelling into international waters.
The Minister of Police informed the group that while this has not yet been placed into effect, it is almost certain that within a given time the document will be signed requiring all water taxis to keep a manifest of individuals using their services.As we walk or drive down the many streets of the island at night time, it is very apparent where street lights are very much needed. The areas that almost seem to invite individuals planning a robbery or an attack on unsuspecting passers by stand out. According to Mr. Spiro, research has led to the determination that there is a need for a minimum of 40 street lights in and around San Pedro. However, as Minister Heredia explained, due to major cut back in funding allocated to each constituency, that amount would definitely not be possible. He however suggested that ten or twelve would be a more realistic number. These lights would be placed in the most prominent areas.
The final leg of the meeting was the presentation of a Major Crimes Comparison report for San Pedro for the years 2008-to date.

From the table above, we could notice that while crime has decreased overall – certain aspects have seen a drastic increase. Notably – reported cases of Carnal Knowledge. While Mr. Spiro commended the San Pedro Police Department for their tireless efforts in minimizing the occurrence of crime on the island, he acknowledges that the various Neighborhood Watches have been instrumental in complementing the work being carried out by the Police Department.
The general pubic is invited to join the various neighborhood watches in your neighborhood. At present, listed is contact information for the present presidents of neighborhood watches:
North Area – Scott Harnish – 661-6353
DFCEast – Luis Cabral – 670-8518
San Pedrito Area – Roberto Castillo – 670-2624
Esmeralda Area – Forrest Jones – 610-4550
San Pablo Area – Jonathan Mullen – 673-6464
South End Area – Flor Nuñez – 226-2450
DFC Area – Janine Lopez – 622-4101
Middle Island Area – Jan Van Noord – 678-4552
Follow The San Pedro Sun News on Twitter, become a fan on Facebook. Stay updated via RSS