Marijuana brownies at San Pedro High
Friday, September 30th, 2011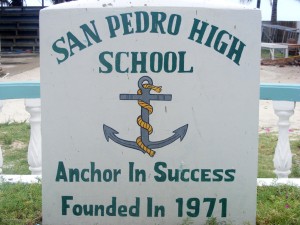 The constant presence of controlled substances/drugs on the streets of San Pedro is a major concern to authorities and residents alike. It is especially alarming when an illegal substance finds its way into the very institution that we try so hard to keep our kids in, where they are educated and hopefully deterred from drugs.
On Tuesday, September 27, 2011, what occurred at the San Pedro High School (SPHS) could be described as nothing less than shocking. At around 12:30PM, the San Pedro Police Department were called to the school's grounds. Unconfirmed reports were that the school officials became aware that 19 students of Class 2G had consumed and were suffering from the effects of the marihuana "spiked" Brownies, commonly known as "Hash Brownies".
In an interview with Mr. Emil Vasquez, Principal of SPHS, he informed The San Pedro Sun, "We became aware of the situation when one student reported to the office complaining of a headache. He was questioned as to what he had consumed and among other things, mentioned a brownie which was being shared around the class. As the suspicions were raised, we immediately contacted the police department, which had an officer over very quickly".
According to Mr. Vasquez, the culprit, who is a minor, confessed that he had brought the spiked brownie to school for his personal use as he feels the need to have it. He claimed that he was having the brownie as breakfast. However as he was eating, students gathered around and asked him to share. This he did. He further claimed that some of the students knew exactly what he was eating, but they insisted and he complied. At the end, 19 students had eaten from the five squares of spiked brownie.
As to how the incident was allowed to occur, Mr. Vasquez commented, "To start off, the manner in which it was introduced. It was introduced as a brownie, which students do sometimes bring in the morning as snacks or breakfast. Some of the kids bring their lunch and they are allowed to have their lunch in class because they can not afford to buy food at school".
As to what actions have been taken, Mr. Vasquez informed The Sun; "We have been dealing with the case in accordance to our school policy. This policy is vetted by the School Board and the Ministry of Education. That child has already been excluded from the classroom but not from school. This year we are experimenting with an in-school suspension program, so he is being separated from his class and being kept in a special room with his councillor pending further investigation. I am compiling a file which will include my discoveries, as well as a police report, which will be taken to the disciplinary committee. The committee is comprised of many teachers and together, we are going to sit and look at the matter and then apply the policy [agreed upon]."
What steps will be taken to assure that a situation like this does not arise in the future? Mr. Vasquez stated, "In the past we had problems with students introducing alcohol into the school grounds using dark bottles. Students were allowed to bring drinks to consume in the past however that was discontinued as we discovered that alcohol had been introduced into the school using that medium. Presently, only transparent water bottles are allowed in the school. Now we might even have to ban food. It is unfortunate but at some point we will have to ban the introduction of food items in the school".
Mr. Vasquez ended by sending an appeal to the parents and community to do their part in assisting and keeping their kids safe from drugs, "We realize that our kids are spending too much time on the streets. As an institution, we take responsibility in ensuring the safety of our children. However I believe that in order to raise a child, it is the responsibility of everyone and not only the school. Unfortunately we have parents that believe that the school should discipline their children. We want parents to take charge of their children. Know where they are. Get into the business of your children. Limit the freedom and money that they are allotted. We will continue to do spot checks. Teachers have been asked to elevate their state of alertness in class."
Follow The San Pedro Sun News on Twitter, become a fan on Facebook. Stay updated via RSS