Violent attacks on residents has islanders traumatized
Saturday, December 3rd, 2011
There has been confirmation of several incidents of attacks and robberies against residents and visitors of San Pedro over the past week. Three of these incidents have been confirmed to be against Americans, one in which a pair of tourists where held-up at gun point and two cases involved the infliction of dangerous physical harm.
The San Pedro Sun followed this story and interviewed the two individuals who received bodily harm and suffered physical inflictions as a result of the attacks.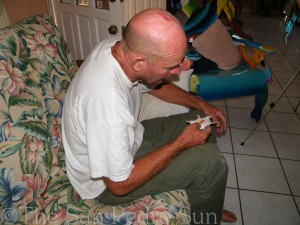 The first incident occurred on Monday morning, November 28th at around 5AM. Jack Burnette, 56 year old resident and American Ex-pat of Princess Drive in San Pedro Town, was laying on his couch when the rear door of his two story home was forced opened. "Monday morning at 5AM my back door just burst opened and three black men about 25 years old burst in the door and hit me over the head with a gun, forced me to the ground, tied me up and robbed my house." Stolen from his home were two computers, two iPhones and a cell phone, all to an approximate value of $9,000.
Burnette informed The Sun that throughout the horrific incident, which lasted about five minutes, he feared for his life and felt he could have been killed at any given moment. It was not until one of his guests screamed from her room that the robbers fled. Burnette visited the San Pedro Police Department (SPPD) and filed a report with the intent to press charges. He informed The Sun that he would be able to recognize one of the perpetrators if he were to come in contact with him again. He was informed by the SPPD that someone would visit his home to evaluate the scene, however as of interview time, he was still awaiting the Police who never showed up. Burnette's wounds were classified as Wounding by Dr. Nicholson of the Dr. Otto Rodriguez PolyClinic II.
The second incident occurred less than 24 hours later when just minutes to 1am on the morning of Tuesday the 28th of November, island resident and US Ex-pat was brutally attacked in his home by two unknown assailants. According to the victim, Emory Boone, who recently acquired and resides at The Boatyard located in the San Pedrito area west of the airstrip, he heard what he thought was his neighbors on his porch.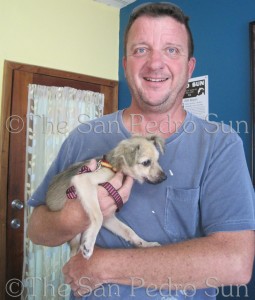 When he opened the front door he was surprised by a dark-skinned man who struck him on the head with a machete, knocking him to the floor inside his house. A second dark-skinned assailant entered the house when Boone was knocked down, and proceeded to kick him in the ribs while the first man continued to chop at him with the machete.
Fearing for his life Boone yelled for his roommate and the assailants immediately fled from the scene. Boone, who said he was literally blinded by the blood from his head wounds, was assisted by his neighbors to the Otto Rodriguez Polyclinic II where he was treated for his injuries.
Dr. Nicholson at the PolyClinic was on call and attended Boone. According to Dr. Nicholson, Boone sustained multiple chop wounds to his head, five in total. They were very large and Boone was bleeding profusely. Dr. Nicholson managed to stop the bleeding and along with Los Pinos Clinic, ordered emergency x-rays. The X-Rays ruled out fracture, therefore, he sutured the wounds. According to Dr. Nicholson, Boone arrived at the clinic around 1:30AM and left around 5AM. A follow-up exam later that day indicated that Boone appeared to be doing okay.
According to Boone his injuries resulted in over 35 stitches. Boone also suffered from bruised ribs on his left side and dozens of lacerations. According to Boone he has no idea what the motive could have been, as there was no attempt to rob him. Boone did not recognize his attackers but is certain he can identify them if they are apprehended.
The SPPD confirmed all incidents and made general reference to three incidents that occurred on the island. They noted that during the Christmas season there is generally a rise in robberies and attempted robberies. The department further stated that they do not believe that these are incidents targeting American citizens alone. The SPPD confirmed that they do believe that it is one group of individuals terrorizing the island residents who may be working in close corroboration with local criminals. The SPPD takes this opportunity to advise residents and business owners to heighten the security of their properties. Starting the first of December, an Anti Crime Campaign will be launched by the SPPD and the public can expect to see increased security and police presence across the island.
Follow The San Pedro Sun News on Twitter, become a fan on Facebook. Stay updated via RSS