Murder mayhem mystery in Hopkins
Friday, November 2nd, 2012
Submitted by Glenn Tillett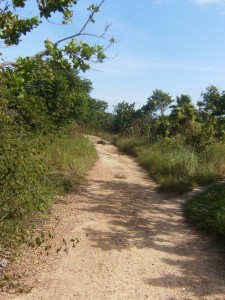 Hopkins Village, Tuesday, October 30, 2012 – Sergeant Wilfredo Ferrufino, the Officer in Charge of the Criminal Investigation Branch for the Southern Formation of the Belize Police Department, is clearly perplexed and deeply concerned.
In an interview on Monday, October 29th, while standing in front of the Hopkins Village, Stann Creek District, police station, the officer was clear that while they had detained "several persons" for interrogation regarding the vicious machete assault last Saturday evening that had left one man dead, and a woman and her children severely injured, he was still at a loss to fully understand what had happened.
The official police release's cryptic language belies the horror being visited on this once isolated fishing village: "On Sat 27th October 2012 between 5 and 5:30 pm, 36 year old Olivia Coc and her two children a 13 year old female and a 5 year old male coming back from fishing in Hopkins when they were ambushed by an unknown man wielding a machete. Olivia received injuries to her mouth, right hand and reportedly lost 4 of her fingers on her left hand. While her daughter received a cut wound to the neck and her son a cut wound to the right hand. They were all taken to the Southern Regional Hospital where they are in stable condition. A little later 25 yr old Abelino Barnaby Garcia was reportedly on his way back from work at a local resort in Hopkins where he met an unknown assailant who inflicted several fatal chop wounds to Garcia. Garcia was taken to the Southern Regional Hospital where he was pronounced dead at 6 pm on 27.10.12. Police have detained two men for questioning."
The bottom line for Sergeant Wilfredo Ferrufino is that there's homicidal maniac on the loose in the village and they have no idea why he lay in wait for a family of three, a mother with her two children and then literally chopped a passerby to death.
As of today their injuries, both physical and psychological were too severe for the police investigators to get more than brief vague descriptions from the wounded and traumatized.
The Coc family is very poor, living in a small shack with no electricity or running water. They are fairly recent émigrés to this traditionally Garifuna village and have been eking out a livelihood, supplementing their meager income by fishing and foraging. They were reportedly returning along a narrow feeder road on two bicycles from a day long fishing trip to the nearby Sittee River mouth and then the beach, when they were attacked from behind by a "dark skinned man".
According to the astronomical charts, sunset on Saturday evening was at 5:23pm which meant that the attacks happened in the gloom of the twilight. But a 97.4% near full moon rose at 4pm to perhaps provide just enough light for their attacker but not enough in the chaos and confusion engendered by surprise and terror for the victims to clearly identify and describe their attacker.
In the aftermath three locks of hair presumably severed from 13 year old girl's head was seen lying on the road, testimony to the swift savagery visited on them.
An eyewitness described hearing the screams of the women and the panicked cries of the five year old child who apparently was chased as he fled into the nearby bushes in a desperate bid to escape. Police believe that the child's flight may have led him and the murderer to a passer by, Abelino Barnaby Garcia, who had just been dropped off on the main road by his work colleagues and was taking a short cut home through a narrow path that intersected the main road at one end, and the road to the beach at the other.
Garcia was chopped to the head and neck. He reportedly bled to death before reaching the emergency room at the Southern Regional Hospital.
The police officers who reportedly responded to the scene in the aftermath of the attack did not search the high bush and shrubbery in the dark for the attacker.
The father and husband of the Coc family had left the fishing party earlier and had gone home while they had detoured to the beach. Sergeant Wilfredo Ferrufino admitted that he was their first and chief suspect but there was no evidence other than the conclusion of traditional police methodology to suspect him.
There was no information as to the identity of the other suspected person detained.
Hopkins Village is a Garifuna settlement village that just 50 years ago was only accessible by sea. Just 25 years ago it was nearly 100% a homogeneous population. Today it is home to a diverse population of residents, North American tourists and expatriate retirees, Chinese businessmen, as well as Mayan, Mestizos and Kriol who work at the resorts or for the public service bureaucracy.
It is increasingly being visited on a daily basis by delivery and service personnel from all over the country, salesmen, politicians and just vacationers, particularly since it is a fairly popular destination for day trippers.
Remarkably the presence of a fairly conspicuous group of the Anti-Drug Unit personnel who has been in the area for over a week conducting operations was no deterrent to the homicidal maniac. Indeed this singular fact must weigh heavily in Sergeant Wilfredo Ferrufino calculations as he tries to discover and apprehend a maniac on the loose, hoping that he will not strike again.
Follow The San Pedro Sun News on Twitter, become a fan on Facebook. Stay updated via RSS