No arrest in Gregory Faull murder; wanted for questioning, McAfee remains in hiding
Tuesday, November 27th, 2012
The Belize Police Department continues to investigate the murder of US national 52 year old Gregory Faull. A post mortem examination conducted on Tuesday, November 13th certified the cause of death to be, "brain damage due to injuries sustained from a gunshot wound to the head." Faull was found dead on the morning of Sunday, November 11th and was last seen alive socializing sometime around 10:30PM on Saturday, November 10th at a resort north of his residence. A 9 millimeter shell was found on the second step of the stairs outside of his residence.
While police have yet to make an arrest, they believe that Faull's neighbor, 67-year-old computer antivirus pioneer John McAfee is a "key person" in the murder investigation and remains "a person of interest." According to police he is wanted for questioning. Police Press Officer in the Ministry of National Security Raphael Martinez told The San Pedro Sun that not much has changed in the investigation since McAfee went into hiding but police believe McAfee could be a missing link to the murder investigation.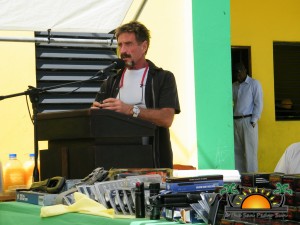 "Mr. McAfee is still out there, somewhere and he is still wanted for questioning. He is still a person of interest and we are still appealing to him to come in to answer some brief questions so that we can get to the bottom of this murder investigation in San Pedro," said Martinez who added "what he (McAfee) has to say will determine the direction of this case. I am sure the police are trying to piece together quite a few [pieces of] evidence. The investigation is still ongoing so we don't want to mention a lot of things that are happening at this point. What I can say is that Mr. McAfee is needed to fill in some of the pieces that are missing in this entire crime scene."
Meanwhile police have also focused part of their investigation on exhuming the remains of four dogs that according to McAfee's girlfriend, he [McAfee] shot in the head. According to online media, McAfee claims that he mercifully shot the dogs after discovering that they had been poisoned. "We are trying to determine if the bullets recovered from the dogs come from the same gun used in the murder," said Martinez who explained that the slugs have been removed from the head of the dogs and are at the Belize Police Forensic Laboratory for ballistic testing. Martinez said that the result of the testing will be completed "shortly" but did not indicate a time frame, stating that the findings will not be made available to the general public right away due to the status of the investigation.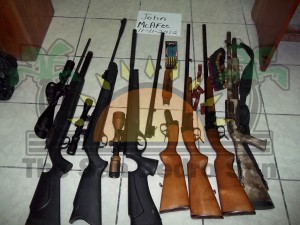 When police conducted a search of McAfee's property the same day that Faull was found dead, they came across a number of firearms, two of which were 12 gauge shot guns each of which were licensed to Eddy Ancona and Alberto Chacon. According to a San Pedro police source, the process of obtaining the license is "being viewed as suspicious," since the license were obtained through the Punta Gorda Police Station headed by Inspector of Police Ernel Dominguez. When questioned about the process of which the license were granted and if the process in which the license issued by Inspector Dominguez is being investigated, Martinez said, "I am not privy to that information. That has not been brought to my attention." Martinez did say however, that a crime was committed as it relates to the firearms found on McAfee's property, and so far the licensees, have been charged. The persons found on the property at the time of the search were also charged. According to Martinez, McAfee also stands to be charged for firearm offences since he could be held responsible for not possessing a license for the firearms found on his property. "It is up to the police to actually decide if and when they get to meet him [McAfee]…I am sure they [the police] will determine if it warrants a charge. We still believe he is in Belize and we still believe that his better judgment will make him come forth and will come in and answer a few questions," said Martinez. "The police are not holding a countrywide manhunt for McAfee, but all police formations have been alerted to be on the lookout for McAfee and if they see him he will be detained for questioning."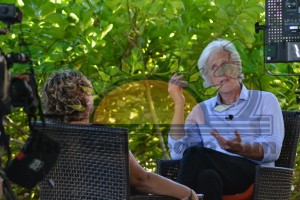 Meanwhile McAfee called NBC Dateline correspondent Keith Morrison (who was in Belize at the time) on Sunday, November 18th and during the telephone interview offered a $25,000BZ reward for information that will lead to the arrest, capture and conviction for the person(s) responsible for the murder of Faull. He also told Morrison that he will not "give himself up, not now, not ever." McAfee told Morrison he is aware of who is visiting his property, claiming that he is at his beach side property on northern Ambergris Caye and can watch the activities around his property.
Gregory Faull, a contractor from Chuluota, Florida USA purchased his home north of San Pedro ten years ago. Apparently the home was just a shell, without a roof, windows, doors or finishes. Over the last decade, as his business in the states permitted, he traveled to Belize for various durations of time where he worked on finishing his island home. After going through a rough divorce a few months ago, Faull decided to make Ambergris Caye his permanent home and planned to work with a local real estate company. According to an island friend, Greg was a nice guy who had been through tough financial times and had worked hard. "Belize was his escape. His passion. He loved the sea. Surfing, fishing, diving, etc. He will be missed."
On Tuesday, November 13th Faull's family released the following statement to the US media. "We are shocked and saddened by the murder of Gregory Faull, a loving father, son and brother who will be remembered as an independent, hardworking man full of initiative and a love of adventure. Losing Greg leaves a hole in our hearts and our lives. We urge law enforcement authorities in Belize and internationally to bring those responsible to justice quickly. We would like to express our heartfelt appreciation to people throughout the community – especially the students and staff at the University of Central Florida whose lives touched Greg and vice versa – for their messages of support. We ask that the media respect our privacy."
Faull was cremated on November 14th after family members came to Belize and properly identified and claimed his remains. He was repatriated to the US for burial.
Follow The San Pedro Sun News on Twitter, become a fan on Facebook. Stay updated via RSS