Three charged for brawl in SP Immigration Office
Monday, May 27th, 2013
Three women including a minor and two female Immigration Officers assigned to San Pedro Town have reported varying degrees of injuries as a result of a fight inside the immigration office. The physical exchange took place shortly before 3PM on Monday May 20th, and as a result of the fight, three females including a minor were arrested and charged by San Pedro Town Police.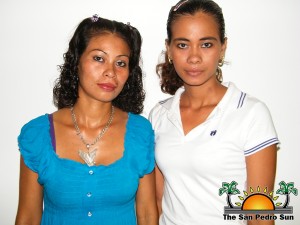 24 year old Telma Basquez and her sisters, 23 year old Maribel Basquez and a 17 year old minor visited The San Pedro Sun and explained that not only were they beaten by immigration officials, but they were detained and charged by police. The trio alleges that they visited the Immigration Office on Coconut Drive to get special permits for two of the females to leave the country on a family emergency. At that point, they were told that other Belizean documentations were required. According to Telma, she provided birth certificates for both of her sisters however this was not enough for the immigration officer. She said that she became frustrated after an Immigration Officer insisted that they provide further documentation, since two of the sisters were unable to communicate in English. "She said we were 'Catrachas' (Honduran) and that we were not Belizeans," said Telma in an interview with The San Pedro Sun.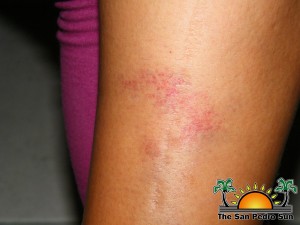 Telma said that after a few minutes, she left and later returned with other supporting documents. She said that upon her return, she was attacked by a grade two Immigration Officer. During the physical attack Telama, a six month pregnant mother of one, said that she and her sisters obtained several injuries to various parts of the body. The three sisters strongly believe that what led to the confrontation was not the lack of documents but more of a racial discrimination issue.
And while that's the version of the Basquez sisters, Immigration Officials and police versions differs slightly. According to officials at the Immigration Office, the reason they asked for supporting documents beside the birth certificate was that Maribel and the minor were unable to communicate in the Belizean national language – English. According to Immigration officials, it is a standard procedure to probe people and ask for picture identification, especially when they are unable to determine if the single document presented is authentic and legitimate. The officials claimed that Telma and her sisters were not happy when other supporting documents were requested and left the office up in arms, later to return in an aggressive mood. According to Police, when the three returned, Telma allegedly threw a passport at an officer, mainly Carolyn Gillett. Gillett was caught in the eye and face with the passport, and this apparently 'triggered' the officer into defensive mode, which led to her being stoned at with a water bottle by one of the females.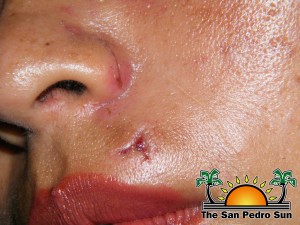 The incident escalated into a physical confrontation between the three sisters and two female immigration officers. The police were called for assistance and they arrived shortly after while the confrontation was ongoing. As a result of the incident, Gillett received a swollen eye and bruises to various parts of her body and a laceration to her face. A second immigration officer, Angelica Lima, received wounds to her legs and arms. The three females were injured and received bruises to various parts of their bodies. Telma, the most hurt received a gash to the upper part of her lip.
As a result of the incident, Police detained Telma, Maribel and their younger sister who they all charged for common assault against Gillett. Telma was additionally charged for wounding of Lima. They were all given police bail in the sum of $500 on each charge, which they were able to meet.
When asked why only the three sisters where charged and not all involved, SP Police indicated that they were called and respond to assistance being requested and saw a confrontation in progress at the worksite of the Immigration Office. According to police, following their own investigation, there was enough evidence to bring charges against the three sisters.
The trio was scheduled to appear in court on Thursday May 23rd to answer to the charges. The three maintained that their rights were violated and that they were discriminated upon for not being able to communicate in English. Immigration officials in San Pedro maintain that at no point were the three treated differently from other visitors and at that insisting for verification documents is not discrimination but a standard procedure.
Follow The San Pedro Sun News on Twitter, become a fan on Facebook. Stay updated via RSS