Two kidnapping victims rescued in Cayo District
Thursday, January 9th, 2014
National Police Report: On Thursday, January 9th, 2014 at about 8:30AM, acting upon information received of a kidnapping, police visited the Chaa Creek Office situated on Burns Avenue, in San Ignacio Town, where they met 43 year old Theo Cocchi, Belizean businesswoman and owner of Parrot Nest Hotel situated in Bullet Tree Village, Cayo District. Cocchi reported that about 8:00AM, she left Parrot Nest Resort on board her white KIA Sportage SUV along with two guests: Kathen Kotay, 18, and Manisha Kotay, 22, both American Indian students of Saint Paul Virginia, USA.
While exiting her drive way she was approached by two Hispanic male persons armed with what appeared to be handguns. The men boarded the vehicle and drove off, stopping near the cemetery area where they met with two other Hispanic descent male persons. They then drove off in the direction of Paslow Falls road in Bullet Tree Village.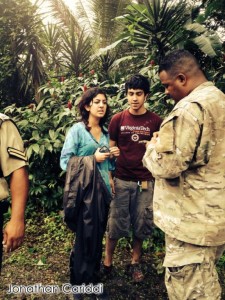 While on Paslow Falls road, they ordered everyone out of the vehicle. They then told Theo Cocchi that she needed to get $75,000.00 US in two hours' time, and that they will hold Manisha and Kathen Katoy until she gets the money.
They then took away her Smart cell phone and ordered her to drive away on her vehicle to go and get the money, and when she returns to give them a call. They told her that she must not inform the Police or else they would kill her family. Before she left they took away her two gold rings one valued $350.00BZ and the other $100.00BZ and they told her to get more jewellery at her house. Theo Cocchi then drove off towards Bullet Tree and then visited the Chaa Creek Office from where she called the Police.
Quick police response resulted in the rescue of both Manisha and Kathen Kotay. Neither of them was injured and both are in good health.
The entire area of Paslow Falls Road, Santa Rosa Road and Calla Creek was checked for the suspects where three Hispanic male persons were sighted by residents fleeing to the border and are believed to be Guatemalans. Police found in the area a blue knap sack with wet clothes including an orange sweater and wet blue sweater believed to be the clothes that the suspects were wearing at the time. The white Sportage SUV was also recovered. Police investigations continue.
Follow The San Pedro Sun News on Twitter, become a fan on Facebook. Stay updated via RSS