San Pedro Town Council Strategies Against Crime in San Pedro
Monday, July 20th, 2015
At the beginning of this year, the spike of crime in San Pedro led local authorities to implement several measures to try bringing back peace and stability to the island. Mayor crime has eased down on the island, but the San Pedro Town Council (SPTC) has come up with several strategies to continue fighting crime. These initiatives include t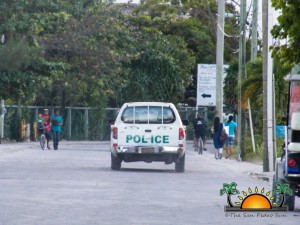 he installation of heavy duty surveillance cameras in strategic points of the island, along with installation of precincts and checkpoints throughout the island. It is expected that these security implementations will make la Isla Bonita as safe as possible for visitors and residents.
Mayor Daniel Guerrero strongly believes that these plans will help prevent crime incidents on the island. "One of my goals that I want to reach by the end of my term is to have a total police force of a 100, so in that way we will have more of their presence on the island. At the same time, we need to control access to the island via water, for example, from Cayo Romero, and also control under the Boca del Rio bridge at night where there will be a checkpoint searching everyone who passes, for drugs, weapons and anything illegal," said Guerrero.
The security agenda also includes the installation substations or precincts on different parts of the island. "We will bring about these developments one at a time. The first phase of all these projects will be the construction of the four substations or precincts for the police. We've had some delays, but we expect to begin works on the precincts on Monday July 13th and in three months we should finish the construction of the substations," said Guerrero. These substations will be equipped with communication equipment, electricity, bathrooms, and internet so police can effectively respond to any call for assistance. They will be located in San Pedrito, San Juan, DFC, and San Mateo.
Presently, the Coast Guard has started work on the construction for an outpost for the Belize Defense Force (BDF) several miles north of San Pedro. This post will host at all times around twenty military personnel who will work jointly with the Coast Guard in Northern Ambergris Caye. According to Guerrero, this will eliminate the need to bring the Gang Suppression Unit Personnel to the island when extra law enforcement is required. "We don't want to have GSU all the time, but they really respond when we call them. But we trust that with these developments with the Coast Guard, outposts up north and with the addition of the precincts we should have more than enough resources to have full control of the main areas of the island that have been affected by the previous crime incidents, and therefore provide more stability to everyone on the island," Guerrero explained. Currently Coast Guard personnel have camps at undisclosed locations on northern Ambergris Caye.
However, even with all these systems in place, it is not enough and everybody is urged to work along with the police in the fight against crime. The San Pedro Police formation can be reached at 206-2022, or one may pay a visit to their headquarters on Pescador Drive at anytime.
Follow The San Pedro Sun News on Twitter, become a fan on Facebook. Stay updated via RSS