Candlelight vigil held to honor Tyler Savery
Wednesday, November 30th, 2016
The Belize Youth Movement (BYM) and Footprints For Peace organized a candle light vigil on Saturday, November 26th to honor the life of Tyler Savery. 7-year-old Savery lost his life to gun violence on November 11, 2016 in Belize City. Several San Pedro Lion and Leo members, along with community members, gathered at the Central Park at 6PM for a peaceful demonstration.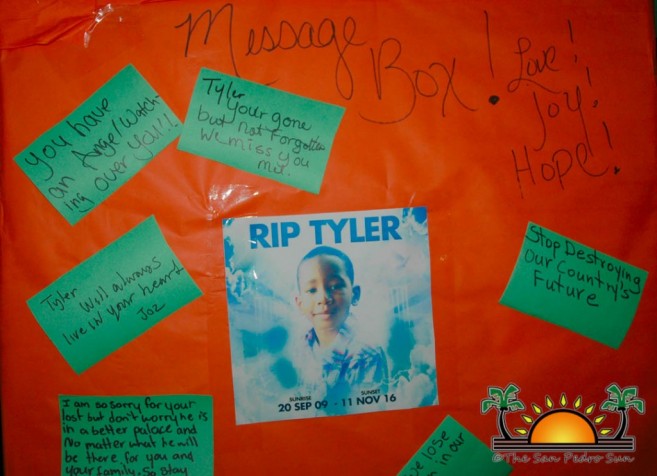 November 11th was a normal Friday for Savery, as it was routine for him to go get his favorite milkshake. His cousin, 21-year-old Porshan Pipersburgh stopped by Savery's house, and offered to take him for his shake. While Savery was riding along on his cousin's bicycle on Daly Street, they were approached by a white four-door car. Inside were two occupants who fired several gunshots at both of them. Savery died on the spot, while Pipersburgh passed away the following day. On November 15th police arrested and charged 18-year-old Jayear Flores, a Curassow Street resident of Belize City, for the double murder.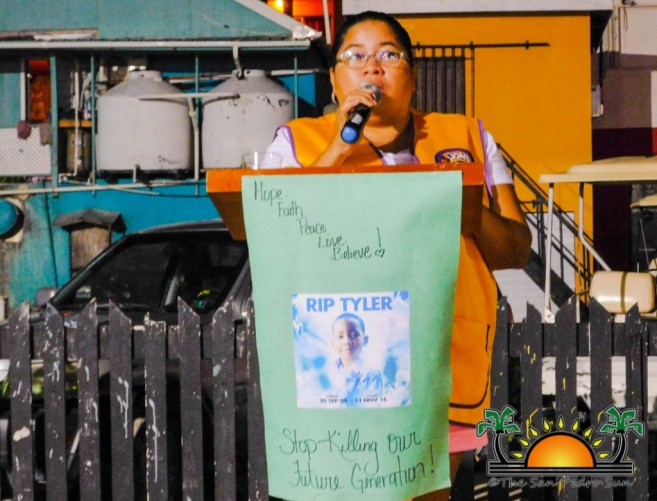 Lion Pamela Zetina was the Mistress of Ceremonies, while Pastor Clive Welsh delivered the invocation. He prayed for the protection of Belize's youth and for strength for Savery's mother, Shakera Young.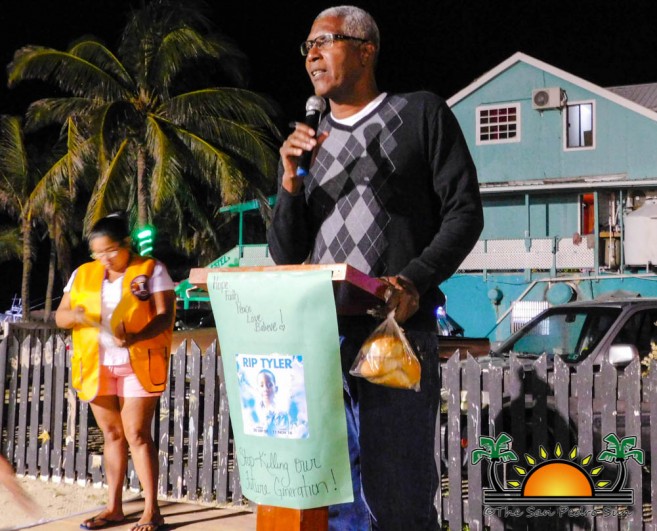 Miss Chiquitita 2016-2017, Lindsey Williams, then read a poem that reflected the negative impacts of gun violence to the society. [excerpt] "Another young body lying there silent. Do people really think they are cool because they are violent? How many more lives are going to be lost with one gun? A mother now loses her once beloved son."*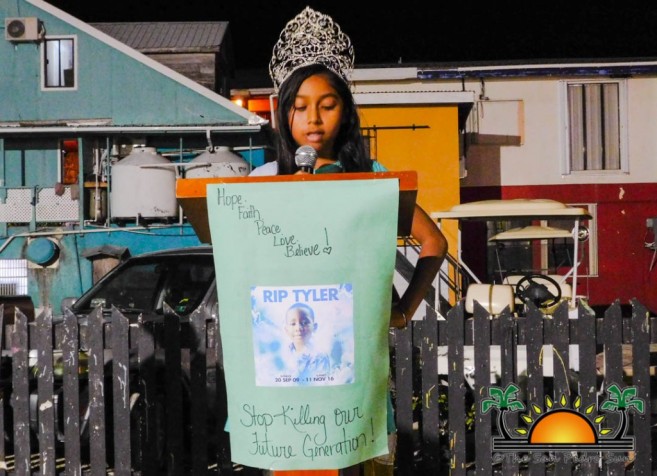 Miss Lions 2016-2017, Solani Graniel, also took to the podium to give a speech. "We unite in a call for peace and to end this violence…As we gather here in memory of Tyler Savery, and other innocent lives, let us say NO to violence, and NO to guns. We are a very small country and we should be uniting in not only friendship, but most of all, love," said an emotional Graniel. "More than ever, we need to stop and ask if this is the life we want for our future generation. I know we cannot stop every single act of violence, but we can at least try. Many have lost their loved ones and even had to bury their own children. There's a lot of stories, of heartache, and pain, but there is also a lot of strength. Let us love our kids. To take action is the change in our community and country," said Graniel. She further suggested that government leaders should create youth violence prevention programs, teach parenting skills, and sponsor year-long sporting activities to curb the violence amongst our youth.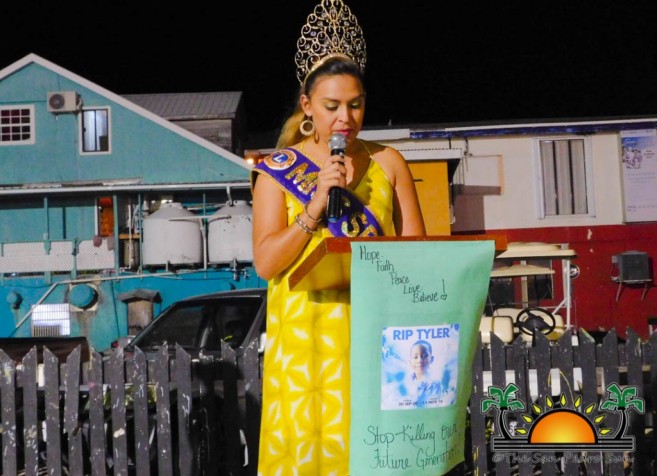 Over a hundred Belizean lives are lost annually to gun violence, and for Young, Tyler's death is the beginning of her activism to fight against crime and violence throughout the country. "It has not been easy…it's difficult to grasp the death of my son, so much that I cannot bear to go to my home and his bedroom. Although I am just one person, I believe if I had great support, we can try to make a change somewhere, somehow." Young emotionally continued, "I would like each and every one of you to spread a little love. I believe God has a bigger plan for me, and it all begins when you sow one seed. If you water that seed and take care of it, it will grow up to be a beautiful tree. Your kids are still little buds, and I encourage you to groom them and teach them to love each other so that they won't grow with hatred in their hearts." She urged parents to come together as a society and make a difference.

Ana Patricia Arceo addressed the gathering, discussing the many events occurring around the country that need immediate attention. "We want to see a stop to this kind of violence. It is so sad that it took a youth to take the lives of another in the blink of an eye. As fathers, mothers, and community leaders, we need to see where we have diverted…We need to make a difference. Unfortunately our judicial system is not a system. Many of our governmental leaders and police were invited and never showed up…We need to understand that a bullet does not define who we are in life…we need to stop that gun, and the only way we could do so is to start questioning our leaders. We all have a voice, and we must use it, and start demanding to end this violence. The next vigil will be bigger, and we will sign so that we demand our authorities for a safer, and better community for our children," said Arceo.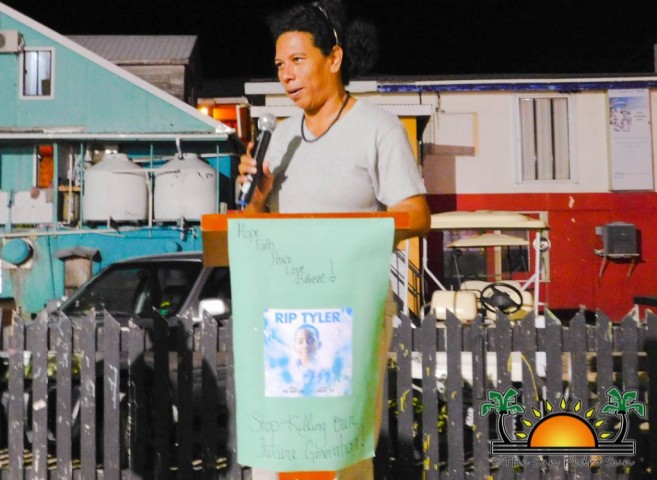 BYM leader Francisco Mendez spoke to The San Pedro Sun about the organization. "I think as youth, we need to put ourselves in others' shoes. As the future, we need to unite and try to make a difference not only for our generations. This was one way how I put my efforts to this vigil, to help as much as I can," said Mendez.

MC Zetina lamented the changes from her youth. "It is really sad to see the reality we live in today. I wish things would change and go back to my childhood years where it was more peaceful. Everyone was friendly, caring, acted as a family, and was not hurting others," said Zetina. However, she is realistic that with efforts, peace can be brought back.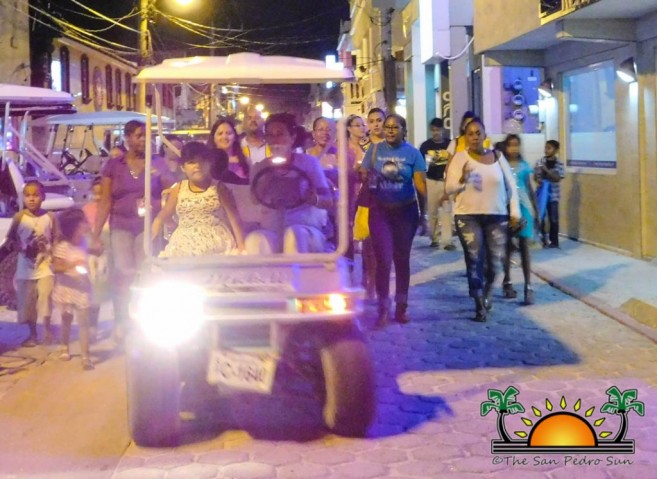 With DJ Debbie providing music, participants their lit their candles, Young opened the top of a box adorned with Savery's photo and quotes, and released balloons in his memory. The gathering then proceeded with their peaceful parade from Central Park to the corner of Caribeña Street, then down Pescador Drive to Barrier Reef Drive, before returning to the park.
Stop the Violence by Zoe Wheatland
"His heart no longer beats,
Pull together,
Take violence off the streets,
Carrying a gun is not clever,
A million mothers tears are crying,
Because another million sons and daughters are dying,
Another young body lying there silent,
Do people really think they are cool because they are violent?,
A bullet in the leg,
The young offenders are heard saying "now beg",
Then to finish their victim's life a bullet to the head,
1 minute gone,
And there lay another child on an early death bed,
How many more lives are going to be lost with one gun?,
A mother now loses her once loved son,
You offender stands in prison,
"why did I pull that trigger?",
They do it to get their "rep" bigger,
A mother wants justice,
Because she didn't get that one last kiss,
Kids killing kids over an area code,
Young offenders stuck in killer mode,
But it's the mother who has to take the heartbreak load,
Pull together and stop the violence,
Let's stop the mother's tears,
Let's take away those dreadful street fears."
Follow The San Pedro Sun News on Twitter, become a fan on Facebook. Stay updated via RSS