Brandon Portillo gets six years in prison for burglary
Thursday, December 28th, 2017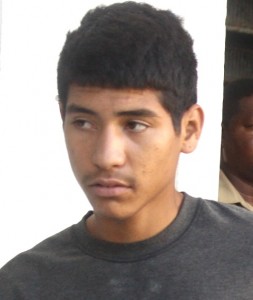 18-year-old Brandon Portillo from San Pedro Town is behind bars at the Belize Central Prison after pleading guilty to burglarizing two homes on the island. Portillo, a fisherman from the San Juan Subdivision, appeared before Chief Magistrate Sharon Frazer on Wednesday, December 27th at the Magistrate Court in Belize City, where after admitting to his offenses, was sentenced to six years in prison.
Reports indicate that sometime on Thursday, December 21st Portillo entered the home of Joshua Carballo and stole several items valued at $1,407. On that same day, he also broke into the home of Josliano Guerrero on Barrier Reef Drive, from where he stole more than $2,000 worth of fishing gear. Portillo was also accused of a previous burglary that took place on December 7th at Terryl Godoy's home, in which a laptop and other items were stolen. However, Portillo denied being the culprit in that burglary.
After Portillo's guilty pleas, Chief Magistrate Frazer set two concurrent six-year terms and he was then remanded to the Belize Central Prison.
Island residents believe the crime rate on the island has been increasing in the past months, but that they have simply gone unreported. The San Pedro Police Department urges all islanders to work along with them and to report any criminal activity by visiting their offices on Pescador Drive or by calling 206-2022. Confidentiality is guaranteed.
Follow The San Pedro Sun News on Twitter, become a fan on Facebook. Stay updated via RSS