Tour guide Gilberto 'Hillyboo' Lara shot in San Pedro
Saturday, January 20th, 2018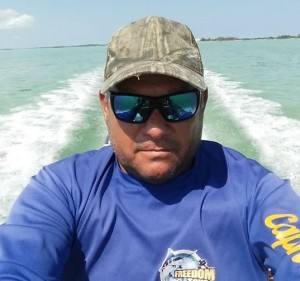 The Police Department has launched an investigation into the recent shooting incident on Saturday, January 20th, that left two persons injured in San Pedro Town. The victims have been identified by police as 48- year-old San Pedro Tour Guide Gilberto 'Hillyboo' Lara, and 25-year-old Honduran waitress Katherine Vanessa Torres Zelaya. Lara apparently received a gunshot to the chest, while Zelaya was grazed on her back. Both were transported to the Dr. Otto Rodriguez San Pedro Polyclinic II for treatment. Zelaya's less severe injury was treated at the Polyclinic and released, but Lara was transported to the Karl Heusner Memorial Hospital (KHMH) in Belize City where he was initially admitted in critical condition. He has now been upgraded to stable condition.
The official report from authorities indicates that about 3:30AM on Saturday, they observed Lara suffering from an apparent gunshot wound to the left side of this chest, and Zelaza with a graze to her right upper back. Initial investigations revealed that they were traveling on a golf cart on Sea Weed Street of the San Juan Sub-division when they heard shots and realized they both had been shot. They then drove to the San Pedro Police Station where they were assisted by officers on duty and transported to the Polyclinic.
As police continue their investigation, this marks the second shooting incident on the island for the month of January. The first shooting took place in the early hours of Tuesday, January 16th which resulted in the death of island resident 26-year-old Alfredo 'Coto' Cowo. He was in the company of his pregnant girlfriend while sitting on a golf cart when a lone shooter opened fire on him. He was shot in the chest and succumbed to his injuries while being transported to Belize City. On Friday, January 19th, 33-year-old William Godoy was arrested and charged with the murder.
Follow The San Pedro Sun News on Twitter, become a fan on Facebook. Stay updated via RSS