Island businesses taking measures to deter crime during the pandemic
Friday, June 19th, 2020
The COVID-19 global situation has crushed the tourism industry in Belize and with it, thousands of jobs have disappeared. As a result, a spike in crime, particularly armed robberies, has been registered on the mainland. A number of grocery stores and supermarkets have been robbed by masked men, who are taking advantage of the mandatory requirement to use a mask under the current State of Emergency. To deter any potential robberies, businesses on the mainland and on the island are now requiring customers to remove any face covering, including caps before entering the establishments.
Some of these businesses even ask customers to look at their surveillance cameras after removing their mask, sunshades, and hoodies/caps, so they can be easily recognized. Some establishments have already created signs and placed them outside their businesses. In San Pedro Town, signs have been seen on the doors of public establishments in both English and Spanish.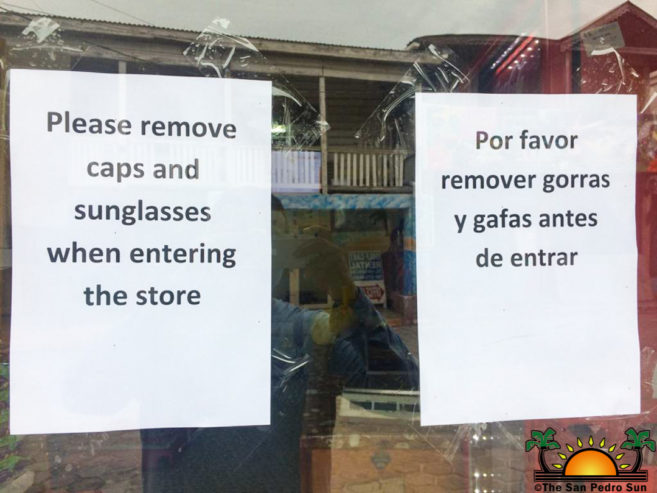 Officer in Charge of the Coastal Executive Unit (Ambergris Caye and Caye Caulker) Superintendent Christopher Noble shared that he believes it is a good idea to relax tensions and create awareness within the business sector. Noble shared that on the police side in San Pedro, they have something in place to deter that type of crime and are addressing the issue of suspects covering their entire face.
Although the streak of armed robberies has not affected San Pedro Town, crime is always a possibility. Therefore, islanders and the business community in a whole are advised to be vigilant, cautious and to report any suspicious persons or movements around their areas.
The San Pedro Police Station can be reached at phone number 206-2022 or visit on Pescador Drive any time.
Follow The San Pedro Sun News on Twitter, become a fan on Facebook. Stay updated via RSS