San Pedro police investigate abuse of local bar tender; four officers placed on interdiction
Sunday, March 6th, 2016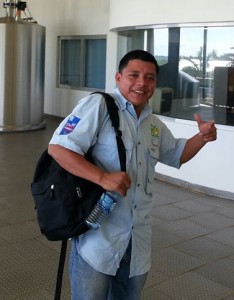 UPDATE: March 7th – It is with a very heavy heart that we report that Edwin Ixpatac has succumbed to the injuries he sustained on Thursday, March 3rd. Four San Pedro police officers are currently in custody pending charges of brutality and now possibly manslaughter. Our deepest condolences to his family and friends, we will miss his warm smile and soft-spoken ways.
+++++++++++
Around 2AM on Thursday morning, March 3rd, San Pedro police responded to a call about a person struggling in the water near a resort just south of San Pedro Town. According to reports, police recovered 30-year-old Edwin Ixpatac, a local bartender, from the water. Ixpatac was intoxicated and had sustained injuries from washing against a sea wall. According to police Ixpatac was combative, and apparently kicked and struck at the officers who were assisting him. Ixpatac was taken to the San Pedro police department where he was detained overnight.
Later that day police carried an injured Ixpatac to the Dr. Otto Rodriguez San Pedro Polyclinic II. In grave condition, he was transported to Karl Heusner Memorial Hospital where he is reportedly on life support.
According to police the sergeant in charge that night made a poor decision in not immediately taking Ixpatac to the polyclinic. Reports are that Ixpatac may have been abused while in custody as well. As such four San Pedro officers were immediately put on interdiction and are now in police custody in Belize City awaiting charges.
An eight-person team of investigators from Belize City traveled to San Pedro on Friday the 4th to record witness statements and investigate the matter. Four are still on the island, continuing the investigation.
San Pedro police officers recently participated in a class called, "Care and Custody of Prisoners" where they are encouraged to treat detainees as if they were their brother. "It is so disturbing that after all attempts to educate our officers something like this can still happen.  We absolutely will not tolerate abuse," stated a police source.
The investigation will continue, and hopes are that Edwin Ixpatac will survive his injuries.
Follow The San Pedro Sun News on Twitter, become a fan on Facebook. Stay updated via RSS