Building materials stolen from Hope Haven
Friday, July 21st, 2017
Currently under construction to assist victimized children and women on Ambergris Caye, Hope Haven organizers have sadly had to report three counts of theft since Saturday, July 15th. After taking count of inventory and reviewing camera footage, the following building materials were stolen: 2X4X14 boards, zinc, sheetrock, along with other construction materials.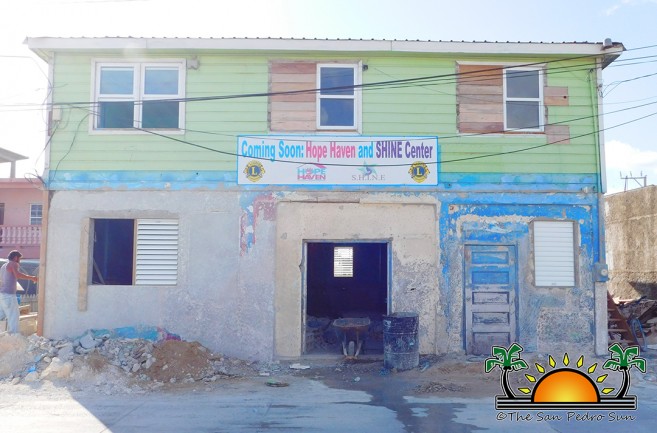 Hope Haven Organizer Brittney O'Daniel stated that her team is doing all they can to identify the persons involved. "Aside from Saturday, we were broken into on Tuesday, July 18th, and Wednesday, July 19th. I just want people to stop breaking into the place. So far, camera footage has revealed that a burgundy pickup truck was hauling materials, and we are still reviewing footage. We have also filed a police report," said O'Daniel.
She is also asking for nearby community members to keep an eye out for any criminal activity. "Our construction work ends daily at either 4:30PM or 5PM, so if anyone sees persons on the premise after those hours, I encourage you to contact me or the police. Our goal is to complete this wonderful project. The upper level is about 90% completed, and I would say that the bottom level is about 20% completed. We are looking to install surveillance cameras in the near future," said O'Daniel.
Officer in Charge of the Coastal Executive Unit Superintendent Henry Jemmott stated that he is working rigorously to catch the culprits. "Every crime in San Pedro is taken seriously. Whether it is theft, robbery or burglary, it is a crime. I always push my police officers to do their utmost best to recover the items, while handling the investigation properly so they can make an arrest," said Jemmott.
On Thursday, July 20th, Jemmott stated that several persons have been detained for questioning, and if found guilty, the appropriate persons will be charged and brought before the court.
Hope Haven is located on Lion Street, across from Maya Island Air. If you witness any suspicious activity around the building, you can call Brittney at 630-1241 or the San Pedro Police Department at 206-2022.
Follow The San Pedro Sun News on Twitter, become a fan on Facebook. Stay updated via RSS