$1.2 million identified for new school in San Pedro
Saturday, November 29th, 2014
For years, residents of Ambergris Caye have been requesting the construction of another primary school on the island. According to residents, there are insufficient classrooms to meet the demands of the island's growing population, and in most cases, the existing classrooms are congested. But that will soon be addressed, as the Government of Belize has approved funding for the construction of a government primary school on the island.
According Area Representative for Belize Rural South Honorable Manuel Heredia Jr., the funds were approved by the Prime Minister of Belize Hon. Dean Barrow during a Cabinet meeting. A total of $1.2 million has been approved for the facility, but it does not include the acquisition of land. According to Heredia, the GOB through the Ministry of Education, and working along with the San Pedro Town Council has identified a parcel of land in the Sea Grape Drive Area. While the land has been identified, Heredia said that they are working on the best possible way to acquire the land, since it is privately owned.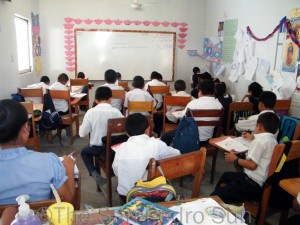 Currently there is no Government School on the island, since all are either private or church-run/grant aided school. When the new school is completed, it will address the current need of the island by providing much-needed placement for children that cannot currently attend school. It will also help minimize congestion in some of the existing schools. In addition, because it will be a Government school (public school), it will target those that cannot afford going to a grant aided or private school.
Currently San Pedro has a total of three grant-in-aid and three private schools. It is estimated that about 200 students are unable to attend school either because there is not sufficient space or for financial reasons.
While he could not say the source of the funds, Hon. Heredia explained that the construction of the school is within the mandate given to him by his electorates, as promised in his manifesto in the last general election. If the land is acquired and all goes as planned, it is expected that the school could be ready to open its doors for the next school year in September 2015.
Follow The San Pedro Sun News on Twitter, become a fan on Facebook. Stay updated via RSS