Work starts on Phase 3 of the Renewable Energy Project at Holy Cross
Thursday, January 8th, 2015
The Holy Cross Anglican Primary School Renewable Energy Project is moving into its third phase. The project, aimed at powering the entire school using solar energy, has already seen the installation of two sets of 24-panel 5-kilowatt arrays that provide up to 10 kilowatts of power for the school. Phase three will see the installation of yet another 24-panel 5-kilowatt array.

The project is spearheaded by Holy Cross Education Foundation and financed solely through donations made via GlobalGiving (a charity fundraising website that gives social entrepreneurs and non-profits from across the world the opportunity to raise funds for improving communities in need). Around $30,000US is needed in order to carry out phase three of the project. On June 25 2014, the organization participated in an "All In" fundraising event which was part of Microsoft YouthSpark Bonus Day, where $200,000US was available in matching funds for all projects on GlobalGiving. "We participated in the recent Microsoft YouthSpark Bonus Day and were successful in raising more than $500 in matching funds. To you, our donors, we are thankful," said John McHenry, Board Member of the Holy Cross Education Foundation. About $12,000US has been raised for phase three leaving $18,000US needed.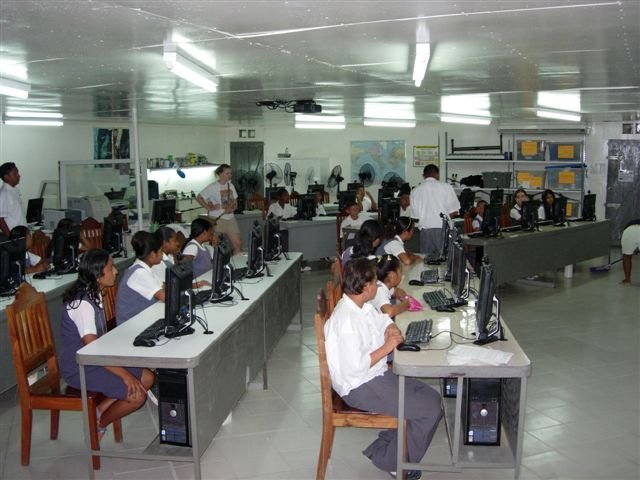 McHenry stated that the project is working marvelously and has offset power expenses for the school. "Our analysis of the current 10KW system shows that we are about right in estimating an overall 40% offset in power consumption, so that at least another 5KW will be needed. I say at least because we have also been communicating with a company that builds small scale high efficiency wind turbines which could help fill gaps in solar production when clouds are prevalent, especially during the rainy season, and at night. Long term, such a mix may end up being crucial," said McHenry.
Members of the Holy Cross Education Foundation are planning to visit the school in March of 2015 to finalize phase three. McHenry expects phase three to be completed by the end of the year.
To make a donation to the cause visit www.globalgiving.org/projects/electricity-to-500-students-in-belize.
Follow The San Pedro Sun News on Twitter, become a fan on Facebook. Stay updated via RSS