Heredia Jr says that a government school will be built before the end of his term
Monday, February 16th, 2015
Primary Education in Belize is compulsory for children ages 4 to15 years; however there are several factors that can affect school attendance. One such factor on the island has to do with the lack of classroom space for children on Ambergris Caye. School populations at the three main grant-aided schools have passed accepted standards, and because of the lack of space, many simply stay home. For some time now, islanders have been promised by the Area Representative Honorable Manuel Heredia Jr. that a government school will be built.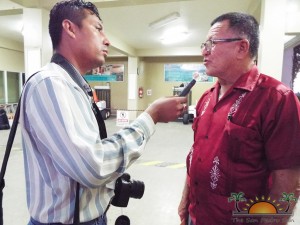 It is unclear how many children between the ages of 4 to 15 are not attending school, but unofficial estimates put it at around 200. That is based on results from the 2010 census and a Child Activity Survey conducted in 2007. With the influence of the imported labor force from mainland Belize, there continues to be a need for more classroom space as the current congestion is straining the capacity of existing schools.
In an interview on February 2nd, Hon Heredia Jr. said that his government continues to work towards the establishment of a government school. "We identified the land and I have submitted the information to Chief Executive Officer (CEO) in the Ministry of Education. We have seven parcels of land that we are seeking for acquisition and if all goes well, I am happy to say that before the end of my term of office, if we go for the full five years, a government primary school should be completed."
The property that Heredia has identified is directly across the Bowen and Bowen Distribution Center located on Blake Street. Heredia said that the owner of the property has been told about the intention to acquire the land for a school.
The United Nations Children's Fund (UNICEF) figures show that about 50% of all children in Belize, who live below the poverty line, continue to be marginalized and are vulnerable members of the country. The figures say UNICEF shows that the challenge for many of the marginalized children has prevented them from gaining access to basic services, including education.
Hon. Heredia Jr. has been in office for three consecutive terms. His third term expires in 2017.
Follow The San Pedro Sun News on Twitter, become a fan on Facebook. Stay updated via RSS