Guidance Seminars held for SPHS Students
Saturday, November 21st, 2015
The students of San Pedro High School (SPHS) participated in a guidance seminar on Wednesday, November 18th. Organized by On Eagles Wings Ministries (OEWM) and Developing Tomorrow's Men Today, the seminar saw four speakers presenting in two different forums. In order to better achieve the seminar's goal, the male and female student alumni participated in different forums aimed at targeting individual gender related issues. While female students participated in the "Being a Woman of Excellence" forum lead by OEWM, male students participated in the "Being a Man of Virtue" forum led by Developing Tomorrow's Men Today.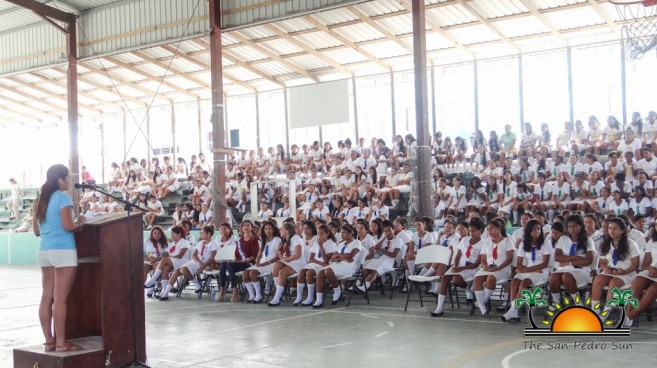 Female students gathered at the Angel Nunez Auditorium at 1PM. Their event started with a short invocation by Pastor Clive Welsh of Lighthouse Christina Radio Station and Board Member of OEWM Belize. Following the heartfelt prayer, Mistress of Ceremonies, Michelle Nuñez took over the stage welcoming those in attendance. Alida Sharp then entertained the audience with a special song fit for the occasion.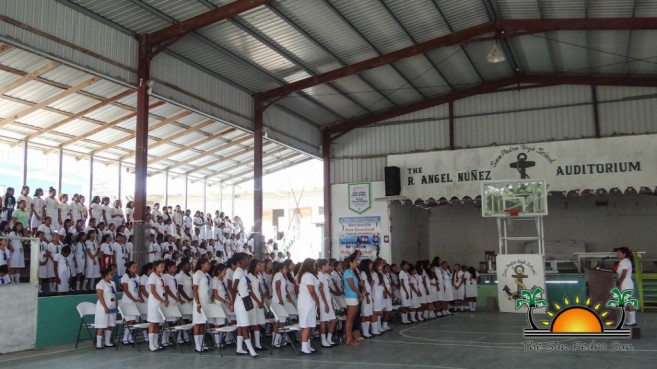 It was then time for the main segment of the forum, the speakers. First up was Shelly Usher who is the Managing Director of Builders Hardware Ltd. She took time to speak to the young women on how to accomplish their goals in life and to never give up. "Every girl can rise above the conditions that they are in. You can be different from the rest, but only if you make different choices than what everyone is making. Stop following the crowd and conforming to the patterns of society. Be different, follow what God says to do. The instructions are right in the Bible. We tend to be negative by nature, but we have to choose differently to have a better outcome. Think about what you are doing today and how that will make a difference. The actions you make today define who you are going to be in the future," said Usher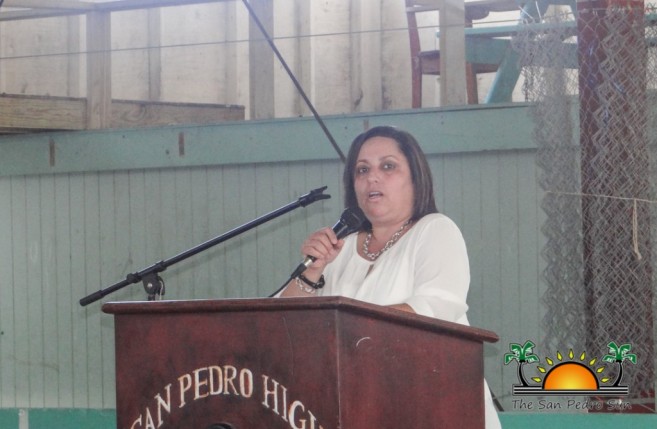 Next up was the Counselor of the Child Development Foundation (CDF), Alida Sharp. Her address touched on teen girls and women who have been abused or exploited. Sharp emphasized to the girls that it is up to them to overcome obstacles in their life and that assistance is always available for those who look for it. "I was sexually abused as a child when I was eight years old. That led to some promiscuity as I grew up. I eventually overcame that and realized my self-worth. Every single girl is worth more than just body parts. Each one of you is an incredible being hand crafted and designed by God. Whatever you want to be or become is within your reach. It doesn't matter what has happened to you in the past, you can step out of trend and be whoever you want to be. There is hope and light for anyone. Always keep on going and hope for the best," said Sharp.

The forum continued with a Question and Answer segment, followed by Miss San Pedro 2015-/2016 Iris Salguero delivering the thank you address. Closing the "Being a Woman of Excellence" forum with a prayer was President of OEWM, Emily Fitchpatrick.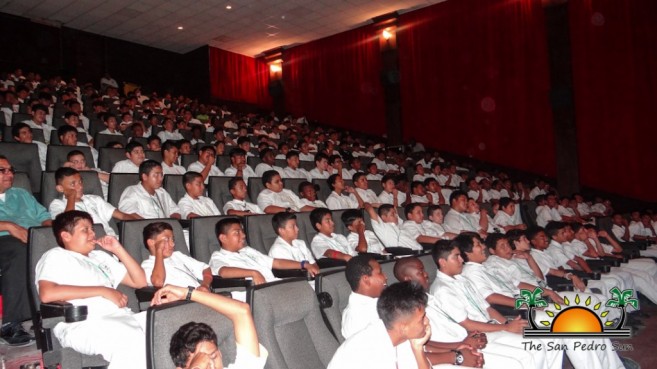 As for the male students, their forum was held at Paradise Theater at 1:30PM. The "Being a Man of Virtue" forum also opened with a prayer by Pastor Clive Welsh. Speaking at this event was Pastor, Educator, Youth Speaker and TV Talk show Host, Louis Wade Jr. and Pastor Tom Camacho of Blue Ridge Vineyard Church in Ashville, North Carolina, USA.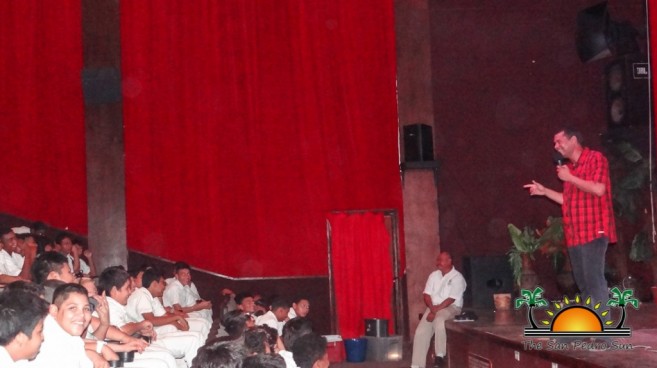 Both presenters spoke on the virtue and responsibilities of being a man, and how youth can better themselves both spiritually and mentally. "Everyone wants to be told the truth but not everyone one wants to deliver the truth. To be a man of virtue you need to offer truth as much as you want to receive it. Because truth is vital in the universe. You need to look to Jesus to find the truth and be a better man," said Wade. Pastor Carmacho touched on the obstacles today's men face and how to remain virtuous even in challenging times. "You may think that the qualities needed to be a great man are many, but in reality to be a great man is to trust and believe in God. With faith, no challenge is too difficult; with faith you can overcome the obstacles life throws at you. I encourage everyone to have faith in God, believe in him and most importantly live your life by the guidelines he has set," said Pastor Carmacho.

At the end of both speeches, Pastor Camacho closed with a prayer.
SPHS would like to extend their most sincere gratitude to all those who took the time to organize and participate in both events.
Follow The San Pedro Sun News on Twitter, become a fan on Facebook. Stay updated via RSS