Community Observes Child Stimulation Month Once Again
Thursday, March 3rd, 2016
It's that time of year where crayons or anything imaginable can turn into real-life. It is Child Stimulation Month and nothing is better than commemorating the significance of education by kicking it off with a festive parade. The theme "Early Childhood Development: The Foundation to a Brighter Belize" has set the tone for this school year. All preschool institutions country wide dedicate the month of March to the enlightenment their students with many entertaining activities. According to Lea Miron, teacher at San Pedro Pre-School, "Our students have a month full of different activities, such as sports day, movie day, reading out loud and more. Like they say, all children are smart, but at their own pace." Who says that education has to be dull and boring? "It is always important to make learning fun," said Miron. From balloons, costumes, and even the San Pedro Roman Catholic Primary School's drum corps have taken learning to another height.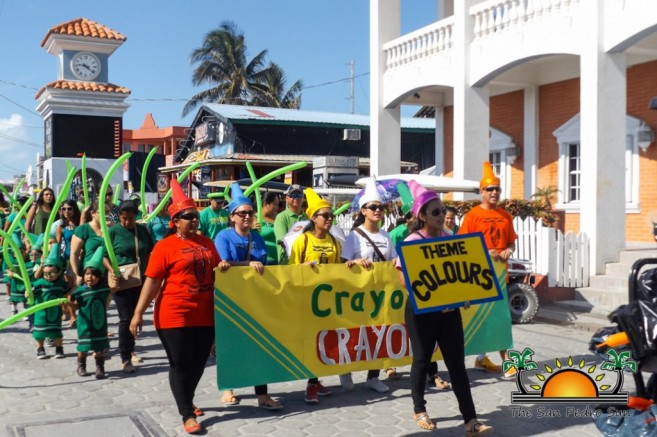 In Ambergris Caye, ABC Preschool; San Pedro Preschool; Little Angels Preschool; New Horizons Seventh Day Adventist Preschool; Holy Cross Anglican Preschool; Isla Bonita Preschool; Brighter Tomorrow Preschool; and the Shining Stars Preschool have united with grand interest to convey one goal, and that is to showcase the importance of early childhood. Parents/guardians indeed make a difference when it comes to a child's education. We all have heard the cliché of "children are the future" and "education is the key to life", but what inspires so many teachers, parents/guardians, volunteers, and the community to actively support them in this important period of development? Of course nothing is more adorable than seeing preschoolers dressed up as suns, clouds, stars, and other bright objects.
But the main concept that is portrayed is the emphasis on education at the primary level. Those are the many reasons why schools organize Child Stimulation Month in an effort to spread awareness about the importance of early childhood. "Child Stimulation Month works with children's creativity and imaginations. We aim to have full community participation throughout the month…there is a running theme for each week, from Civic Pride to Health to Family, and we ensure that the children experience and learn in fun ways," stated Wilfredo Alamilla Jr., Principal and Teacher of ABC Preschool.
Education is more than learning basics such as your ABC's or your 123's. Preschool not only prepares these youngsters, but it also provides them with developmental and strategic skills that are beneficial when entering primary education. Children are at the crucial ages where they need to be stimulated because their brain is developing at a rapid pace. It sets the foundation children need when starting their educational career. According Alamilla, he is thrilled with this year's participation. "I was so impressed with the great participation of the parents and their children this year. It is always so fun to experience the parade every year, but this year surpassed my expectations," ended Alamilla.
Follow The San Pedro Sun News on Twitter, become a fan on Facebook. Stay updated via RSS