Reading: "I see the world"; Writing: "I change the world"
Saturday, May 21st, 2016
By: Golda Swift (M.Ed.)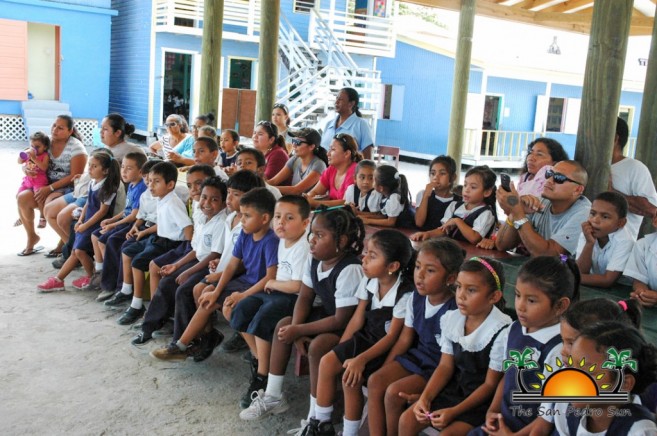 I write to the education theme, Reading: "I see the world"; Writing: "I change the world," as the relationship between reading and writing is woven in a web and when properly used, can have a tremendous effect on student's achievement and development. In the history of our education system in Belize, we have appreciated the three R's of reading which comprised of reading, writing, and arithmetic. Respectively, this threesome had been coined together as the foundation of what may be classified as the background needed when students left the primary school system. However; today's education have plummet educators to challenge the Language Arts Curriculum which emphasizes the skills of Language Arts from a holistic approach. These skills have been outlined in five main basic category of learning. These are: listening, viewing, and speaking, reading and writing. Twenty – five of the forty- five Content Standards in the curriculum speak to reading and writing of which I will address. In applying and using the Whole Language Approach in education these skills then become a part of and not excluding any, the teacher's mode and delivery to the aspect of teaching Language Arts in our schools. The struggle of the debate still lingers if it is best to use the Whole Language Approach to teaching reading and writing or Phonemic Instruction where students learn the decoding and spelling of words. In this paper, I will seek to address the importance of reading and writing and the effects of the Whole Language Approach verses Phonemic Instruction as they relate to the teaching of reading and writing in schools.
It is most important to state that these two components reading and writing are necessary components to move the education of our students toward upward mobility and prepare students for the world of work. It is through reading that indeed the mind is developed and sensitized to the world through the child's imagination. It is also through reading and comprehension that students are able to analyse and make sense of ideas that may be seen as impractical in nature. Reading then can be viewed as a bridge that needs to be crossed in order to understand the practicability of the way the world works. In reading, students appreciate the world that exists beyond the scope of their physical experiences and it takes them to places that they have never seen or encountered. It advances the mental capacity of students as it widens their vocabulary and helps them to create a connection between things that occur. It teaches and engages students that events do not happen in isolation, but they are connected and it is through their understanding and interpretation that these connections are made. It can be noted, that the complexities of the world are far greater than a human can experience in one life span, but through reading the reader can participate in those experiences and can even use them to provide relevant information to others when needed.
Writing is the actual implementation of learning acquired through reading. While reading could be viewed as the theoretical aspect of learning, writing can be seen as the practical aspect. It is what has been learned through reading that the brain stores, decodes and breaks down the information to form connection so that it can be delivered in a logical manner. Writing then can be seen as a "tool" to change the world. The advantages of reading and understand content by using context clues and prediction can be articulated in student's writing. Writing then empowers an individual to record what they understand from their experiences and knowledge. It is the voice that speaks on issues that may be pertinent concerns and thereby can have significant impact to make a difference and create change. Students who apply themselves to writing have the opportunity to address issues that may be of concern in their schools and in their communities. They can also, be the voice of others as students can write what others may be challenged with or experiencing. Writing can also be used as a recreation hobby or activity where students can enjoy the art of writing and expressing themselves. Writing then becomes the mode of delivery of what was taught.
The Constructivist Theory teaches us that using the Whole language Approach in the teaching of Language is the way to go in this century. Constructivist teachers encourage students to create their own knowledge through reading what they encounter. Many educators are still baffled as whether it is more effective to use the Phonemic Instruction in teaching reading or the Whole Language Approach. As an educator, I stand to argue that both approaches when blend together using the correct methods and strategies serve the purpose of the direction that we should be heading. It can be stated, that direct and structured phonemic instruction has worked for all students. However; in the Whole Language Approach the teaching of phonics especially in the Lower Divisions of education can be placed underneath the umbrella as one of the basic component necessary to advance reading. Whole language educators believe that we should not place emphasis on spelling or grammar, but the teaching of reading should be considered and taught in a meaning way so as to get students to love and enjoy reading and writing.
In concluding, it is important to understand that reading and writing cannot function independently as they work together. However; it is in the mode of deliver using both the Whole Language Approach and Phonemic Instruction where the teacher finds it applicable that will serve to advance students reading and writing. These two components are necessary and can be delivered as creative and interactive as the teacher plans. Reading and writing are the foundation to students having a wholesome life experience as they provide students with the skills needed to advance student's achievement and expand their development.
Follow The San Pedro Sun News on Twitter, become a fan on Facebook. Stay updated via RSS