San Pedro's preschoolers graduate
Friday, July 1st, 2016
Graduation Season is nearly done, as over the past week, five pre-schools' students joined the proud list of 2016 graduates.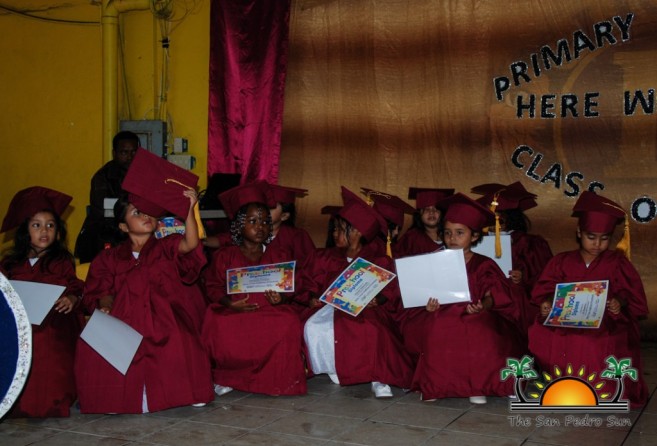 First to hold their graduation exercises was Holy Cross Anglican Preschool on Thursday, June 23rd. 28 children from Teacher Blake's preschool class received their diplomas during a ceremony at the San Pedro Lions Den at 5PM. Led by Ayoni Esquiliano, the ceremony saw Delvi Flores giving the welcome address. Vice Principal Olivia Tasher presented diplomas, and the vote of thanks was done by Helen Melendez.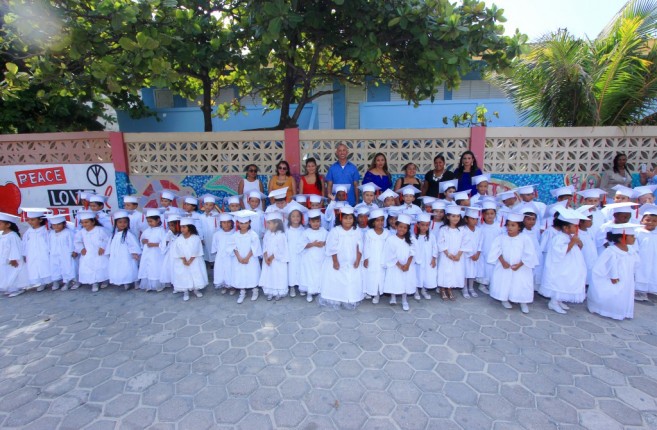 On Saturday, June 25th, ABC Preschool held their graduation ceremonies at 3PM. Diplomas were given during a Catholic mass at the San Pedro Roman Catholic Church, after which graduates and their families moved to the Angel Nuñez Auditorium for a celebratory party. This year's graduation ceremonies were very special as it marked 25 years that ABC Preschool has been under the administration of Principal Wilfredo Alamilla.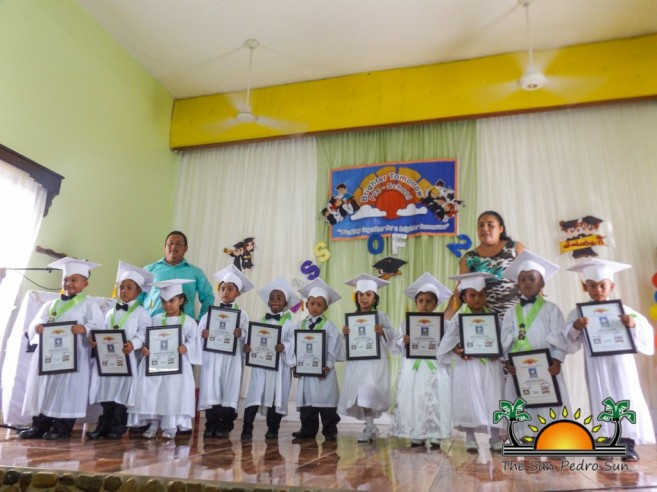 Graduation ceremonies continued on Sunday, June 26th with Brighter Tomorrow Preschool. Kicking off at 2PM at the Assemblies of God Church, 12 preschoolers made their grand entrance in front of the congregation. Ariani Gongora gave the opening prayer, while Javier Gongora gave the welcome address. After a song and poem by the graduates, they were awarded their diplomas.

That same day, Little Angels Preschool held their Commencement Exercises. 40 toddlers marched to the tunes of pomp and circumstance at 4PM at the Angel Nuñez Auditorium. The master of ceremonies was Angel Nuñez, while Brandon Tun and Marclyn Vasquez gave a welcome address. Guest speaker for the event was Odilia Caliz, and Principal Marina Kay awarded the diplomas. The vote of thanks was given by Neba Vejerano and Kamilah Claros.

San Pedro's Shining Stars Preschool closed off the graduation ceremonies for the day at the San Pedro Lions Den. The ceremony started at 5PM, with a class of 40 marching to the tune of pomp and circumstance. Master of ceremonies was Pablo Garcia, and Reynaldo Narvallez gave the welcome address. After guest speaker Minister Hon. Manuel Heredia Jr. gave a speech, Head Teacher Kristy Sansorez issued out the diplomas. Malik Bowden presented the vote of thanks, and the graduates sang their farewell song.
The San Pedro Sun congratulates the island's littlest graduates and wishes them the best as they advance into primary school.
Follow The San Pedro Sun News on Twitter, become a fan on Facebook. Stay updated via RSS