Campers graduate from Coral Reef Ed-Ventures
Saturday, July 16th, 2016
Coral Ed-Ventures is a children's education program held annually in San Pedro. The main focus of the program is to teach children about reef ecology, conservation and preservation of marine habitats. This year's Coral Reef Ed Ventures camp ended with a fun graduation ceremony on Wednesday, July 13th.

Over 80 campers and their families filled the Lions Den at 7PM for this commemorative event, which included a variety of presentations, skits, videos and projects that showcased what the graduates learned during the camp. Graduates included campers from both the youth camp (ages 9 through 12), and advanced camp (ages 12 through 17). After the presentations, each student was called on stage to receive their "Expert Card", which represents that they successfully completed the course.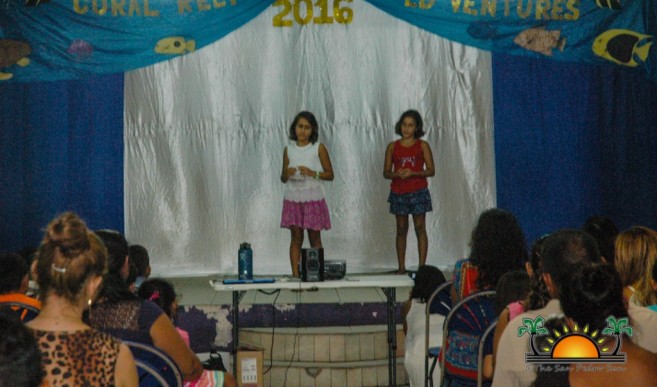 "We had a great time this year, and we were surprised with our enrollment. We were blown away from how excited they were about learning, and we had full classrooms. It was an awesome experience, and eye-opening when the students did their projects because it showed how much they progressed," said Coral Reef Ed-venture Volunteer, Emma Becker.

"This was our 17th year coming to San Pedro and we were once again welcomed and made to feel at home by the San Pedro community. We are incredibly grateful to get to spend part of our year here and have the chance to teach the amazing youth of the island. For those of you who participated in our camp this year, thank you for making it the wonderful experience that it was,' said Volunteer Laura Henry.

The six volunteer students from Smith College, Massachusetts USA, are biology majors and were also conducting research with Hol Chan Marine Reserve on different types of ecosystems. These include mangroves, the reef, shallow and deep sea ecosystems and sea turtle nesting.
The volunteers thank all organizations who contributed to Camp 2016, and look forward to Coral Reef Ed-Ventures 2017!
Follow The San Pedro Sun News on Twitter, become a fan on Facebook. Stay updated via RSS