PSE High Scorers presented with book stipend by Area Representative Manuel Heredia Jr.
Saturday, July 8th, 2017
The top Primary School Examination (PSE) scorers on the islands of Ambergris Caye and Caye Caulker were awarded with book scholarships on Friday, July 7, 2017. In a brief ceremony at the Belize Tourism Board office, Belize Rural South Area Representative and Minister of Tourism and Civil Aviation Manuel Heredia Jr. commended Colin Greif, Keona Sankar and Dylan Pacheco for their high marks achieved in the PSE. The PSE is the final examination that tests Standard Six students at the primary school level on their knowledge of English, Math, Science and Social Studies. It is not a determining factor to enter high school, but is rather a reflection of the students and teachers work throughout eight years of primary school.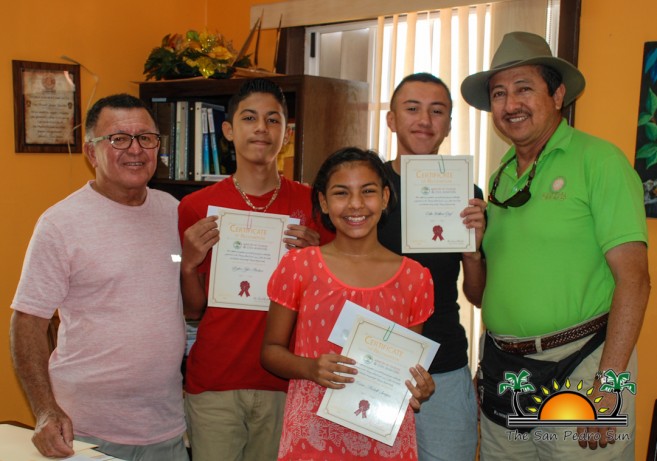 "When we were growing up, we didn't have the opportunities to go further in our education. We had no high schools or colleges, and so our school was done at primary level. But what you want and can't have for yourself, you can offer to those coming behind," said Heredia. He stated that results were not quite as expected this year in both islands. "I believe that the strike had something to do with the fact that we didn't do as great as expected in this year's examination. However, you all did excellently and we commend you for your efforts." He proceeded to present a certificate of recognition and book scholarship for the top scorers of the island, encouraging them to do just as well in their next educational step.
Greif and Sankar tied for top scores on Ambergris Caye, while Pacheco obtained the highest PSE marks in his village of Caye Caulker. Congratulations once again to all three brilliant students, and we look forward to more successes in their future endeavors!
Follow The San Pedro Sun News on Twitter, become a fan on Facebook. Stay updated via RSS