Island office personnel participate in front desk management seminar
Sunday, August 5th, 2018
Six receptionists from different business establishments in San Pedro Town completed a two-day 'Front desk Management Seminar,' at the Washington University of Health and Science (WUHS). The training took place from Tuesday, July 31st to Wednesday, August 1st and was aimed at teaching and understanding the responsibilities of front desk duties, including customer service. The course also taught ways to overcome stress and frustration at the front desk post. Each participant was presented with a certificate upon completion of the training.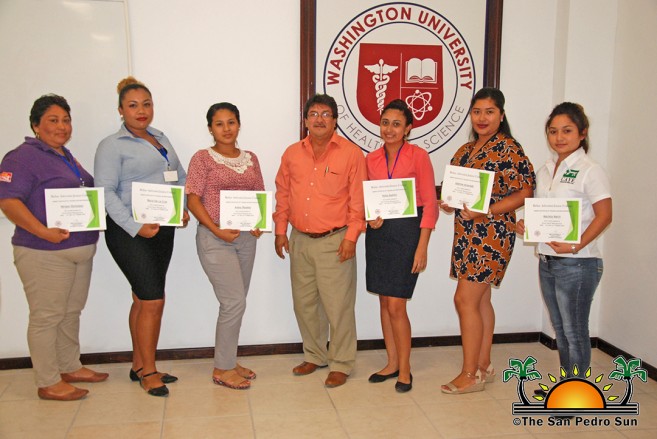 The six persons taking the seminar included Mariela Marin from Caye Bank, Adeline Alvarado from Tabony Industries, Miriam Nicholson from Castillo's Hardware, Nidia Badillo from Georgetown Trust Ltd, Rocio de la Cruz and Anesy Rosalez from WUHS.
The seminar was presented by Carlos Magaña of Corozal Town, who holds a master's in economics and Development. Magaña brings a wealth of knowledge after serving as Chief Executive Officer at the Belize Sugar Cane Farmers Association, as an economist at the Belize Social Security Board and teaching at various educational centers in Belize and abroad within the past 16 years. Magaña said that the course gives the participants a deeper understanding of the duties of the front desk, which does not only apply to the receptionist, but to anybody who may be behind a desk. He reiterated that the front desk is the first impression anyone experiences from an establishment, and it must positively impact potential customers.
Rosalez believes the course will assist her in always making sure that everyone who walks into the Washington University leaves with an even better impression of the institution. "It will help us grow professionally, and it will encourage our co-workers to continue improving," she said.
Alvarado of Tabony Industries shared that she learned a lot about communication and multi-tasking. One of the things she learned was managing time and a heavy workload. She stated that she now has a better understanding of the job and is looking forward to adding more value to her performance at work.
According to Magaña, this is the second seminar he has held in Belize. He is available for future training. Any establishments wanting to train its employees can call Magaña at 600-9362.
Follow The San Pedro Sun News on Twitter, become a fan on Facebook. Stay updated via RSS