Ministry of Education discusses the way forward on the re-opening of schools; 2020 high school graduates to be honoured in virtual celebration
Tuesday, June 9th, 2020
The future of schooling in Belize was discussed by the Minister of Education, Honourable Patrick Faber, on Monday, June 8th, via a virtual press conference. Faber announced that the current school year would close at the end of this month, and schools are set to tentatively open for the new school year on August 10, 2020. The presentation also included the plans for examinations for students beginning secondary school and other exams for senior students in high school. In addition, a detailed plan to honour all 2020 secondary school graduates is set to take place virtually on June 21st.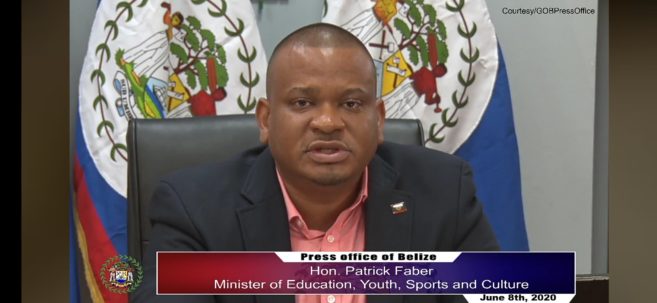 Faber asked all high school teachers and counsellors to return to classes from June 15th through the 30th in order to end the current school year. This is believed to serve as preparation for the upcoming Caribbean Secondary Education Certificate examinations and plan for the new school year as well. High school students who will be taking their Caribbean Examinations Council exams are also called to be at the school during that time through the end of the month.
All first form students at the secondary level will sit the Primary School Examination exam at a date soon to be announced. Faber said that according to the results of these exams, support would be provided to students who may show weaknesses and need additional support.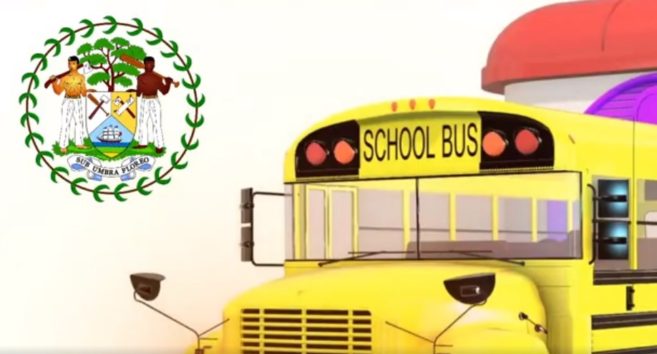 A
Tentative date for the new school year
All pre-school, primary, and secondary school teachers are expected to return to classes from August 3rd to the 7th in order to prepare for the new school year. This will also give time for diagnostic assessments and intervention planning and start classes on the 10th of August. Faber said, however, that this is a tentative date that may change depending on the advice from the national health authorities.
In the case of IT-VET instructions and trainees, they are expected to return to classes from June 22nd to the 31st of July in order to complete practical components of their trade programs.
Preparations for the new school year
The Ministry of Education explained certain activities to take place prior to opening the new school year. These include providing guidelines and training materials for the operating schools, trаіnіng еduсаtоrѕ, рrераrіng ѕсhооl fасіlіtіеѕ tо аddrеѕѕ іdеntіfіеd іnfrаѕtruсturаl nееdѕ, rераіrѕ, аnd рrосurіng ѕuррlіеѕ. This will also be a time to collect and analyze data results of school readiness surveys.
In addition, the ministry is still looking at social distancing in classrooms, and whether students will need to use face masks.
How MOE will assist teachers' transition into the new school year
According to Faber, thousands of teachers are currently engaged in the ministry's online continuing professional development programs on personal well-being and digital learning. Some of the topics discussed include health education, diagnostic assessments, identifying learning gaps, and designing teaching plans for learning recovery.
In the case that future school closures are necessary because of COVID-19 or something else, these will be required to develop a Learning Continuity Plan. In the meantime, the Ministry of Education continues to explore digital learning platforms and devices that can be integrated into the current teaching and learning practices of schools. These efforts are expected to ensure that students, teachers, and parents have the capacity and resources necessary to adapt more easily to distance and home-based schooling in the future.
Honouring our 2020 graduates
All secondary school graduates this year will celebrate their achievement via a first-ever virtual National Graduation Ceremony set for Sunday, June 21st, at 2PM. The event, themed 'The Climb,' will be broadcast on social media by the Ministry of Health and radio and television media houses. The special graduation ceremony is scheduled to last two hours, and it will include presentations by Prime Minister Right Honourable Dean Barrow, the Leader of the Opposition, Honourable John Briceño, Minister of Education Faber, along with community activists and popular personalities. The program will see the top graduates from each school featured, and entertainment will be provided by some of the secondary students and local artists. Everyone is invited to tune in to the program and join the nation in recognizing all high school graduates.
Meanwhile, as all plans are being discussed to start a new school year, Faber announced that transportation for students would continue to be covered by the government. Also, about 11,000 students entering high school will be assisted with the usual subsidy, however, instead of the $300, the assistance will now be $200, because of the COVID-19 pandemic that has affected the country's economy.
Follow The San Pedro Sun News on Twitter, become a fan on Facebook. Stay updated via RSS