Marisela entertains fans at Costa Maya
Monday, August 8th, 2011
Costa Maya 2011 has come and gone. The party and revelry is over, but the memories live on. After comedy and pageantry on Thursday and Friday night, everyone was eagerly anticipating the much hyped concert by La Dama de Hierro, Marisela. Of course, before any of that, there were several entertainers who kept the crowd glued to their seats as they awaited the arrival of the beloved singer.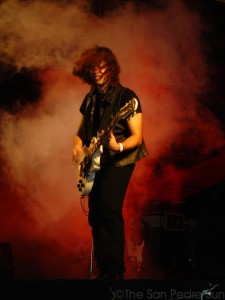 The ever-melodious Natalie Arceo commanded the stage with her powerful vocals, singing popular Spanish ballads to the delight of the audience. Following up her gentle vocals was the raw, guitar-heavy rock band Ascenthium from Belize City. With song choices that ranged from Avenged Sevenfold, to Black Sabbath and Metallica, to Rage Against the Machine, the young group provided quite the change-up from the standard fare at Costa Maya. They certainly rocked the stage.
Krash from El Salvador quickly followed up Ascenthium's act with a few fun dances while the band tuned up in anticipation of Marisela. Adding to the hype, she took to the microphone from backstage, expressing her desire to get on and perform. The audience was not disappointed, as from the moment she stepped out to begin her set, her warmth and love for the fans radiated from on-stage.
For two hours she gave her all and performed like the true superstar she is.
People rested up a little bit before heading out to the beach for Costa Maya en la Playa where music was provided by Rompe Raja and a couple of Deejays. The bar was open, and it was time for the family to enjoy the sun, sand and sea that makes Ambergris Caye the place to be for Costa Maya. Here's to a great 2011 Costa Maya, and let's see what's in plans for the 2012 Festival!! Que viva Costa Maya!!
Photo Gallery
Follow The San Pedro Sun News on Twitter, become a fan on Facebook. Stay updated via RSS