Italian Travel Documentarian films in Belize
Friday, April 27th, 2012
Italian Travel Documentarian, Alessandro Di Nitto was in Belize filming for the Italian travel program "Alle Falde del Kilimangiaro". The program is broadcasted on Italian National TV Channel RAI 3. A portion of his filming adventure was spent on Wednesday April 18th and Thursday April 19th on La Isla Bonita, taking footage.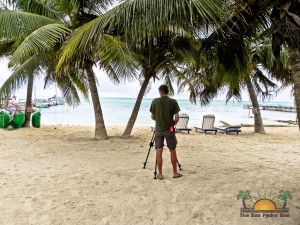 Alessandro's professional career has garnered him much experiences in television and cinema since 1987 in roles such as production organizer, author and creator of new programs, studio and external director and budget manager.
His experiences include the production of fiction, culture, sports, tourism, music and documentaries. In the last 15 years his professional activity has been focused mainly on travel documentaries. In this capacity, he has travelled world wide, producing travel documentaries for Italian travel programs mostly for the national channels RAI 1, RAI 2, RAI 3, LA7.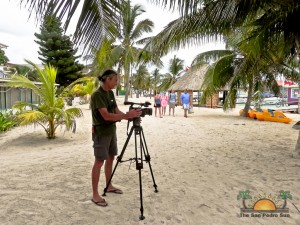 Over the past 10 years, Alessandro has created his own company, producing documentaries all over the world. According to Alessandro, "Alle Falde del Kilimangiaro" is the most popular Italian travel program broadcasted since 1998 on the Italian National television channel RAI 3 with about 12% share which translates to about 1.5 million viewers. The program also produces an online magazine www.allefaldedelkilimangiaro.rai.it.
The documentaries generally focus on the environment, history, architecture, religions and handicrafts of the various countries featured, while promoting a deep respect for local cultures. According to Di Nitto, the program also aims to showcase remote destinations with the desire to promote a human interest in respecting the fragile environment and the local culture of the untouched destinations that still exist on the planet.
Alessandro arrived in Belize on April 11th. In Belize, he filmed places such as: Altun Ha, Baboon Sanctuary, Thousand Foot Falls, Blue Hole National Park, the villages of Placencia and Hopkins, and Hol Chan and Shark Ray Alley off of Ambergris Caye.
Alessandro arrived in San Pedro on Wednesday April 18th. First on his list of activities was a visit to the Marco Gonzalez Archeological Site. The San Pedro Sun's Dennis Craft along with site docent Jan Brown lead Alessandro on the 45 minute drive south of the island, enthusiastic about giving him a tour of the very important Maya ruin as well as at the opportunity to have the site featured internationally. However, it appeared the rain Gods had other plans. San Pedro became overcast and showers poured throughout the day until around 3:30pm, when Alessandro boarded his ferry north of the island to Portofino, where he was staying.
The San Pedro Sun's Chris Moguel with Alessandro made a go for some sunny shots of the island on Thursday morning once more. The weather did not cooperate and eventually Marco Gonzalez was scratched from the list and Alessandro decided to focus on seascape and beaches. Chris accompanied Alessandro along the beaches from Holiday Hotel all the way to Ambergris Brewery, with filming at various stops along the way including the Holiday Hotel, Wahoo's/Caliente, Central Park, Daddy Rocks and in front of the Mayan Princess.
In speaking of his visit, Alessandro stated; "We try to feature the main attractions of each destinations we visit; environment, archeology, seascape, history and local culture. I have been here for 10 days. I've taken shots of Belize City as well as I believe it is important to have a wide idea of the population and of the history of the country." As to what particular aspects of Belize stand out to him, he stated, "It's interesting to understand how in Belize they live together, different cultures and different kinds of environments.  In the matter of a few miles, one can enjoy the spectacular landscapes of the mountain, the magnificent archeological sites and the most beautiful coral reef. This is not possible elsewhere."
Alessandro hopes to provide a glimpse into the magnificence that is Belize to the Italian viewers through his documentary. The air date and time for the documentary has not yet been determined however, Alessandro assures that it will be between June and August, 2012. Alessandro took approximately 500 minutes of footage which will be converted into a 16-minute documentary. In conclusion, Alessandro expressed much thanks to the Belize Tourism Board for hosting him, The San Pedro Sun and everyone else in Belize who provided a magnificent Belize experience.
Follow The San Pedro Sun News on Twitter, become a fan on Facebook. Stay updated via RSS