Berne Velasquez featured in prime role in Jurassic Attack
Saturday, March 2nd, 2013
Berne Velasquez is no stranger to the Belizean public, as he is known for his music and more recently for his roles in various movies. On Ambergris Caye Berne has performed on the international stage at the Annual Costa Maya Festival 2012 and was well received. But the talented Velasquez is also making waves in the acting arena. Berne stopped in at The San Pedro Sun office to speak of his role in the recently released film Jurassic Attack; a movie filmed in its entirety in Belize.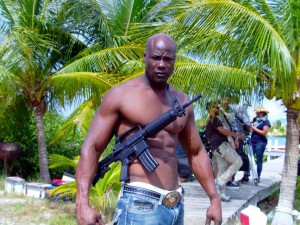 Berne said that while he loves music, he has been concentrating a lot more on acting. Jurassic Attack is the third movie in which he was given a prime role. Berne played the role of Tank, a jungle and tactical military person. The movie centered on a military rescue mission of a young female scientist who was held captive at an uninhabited jungle, disconnected from civilization. The scientist was held by a terrorist known as Marques and his gang. Marques attempted to force the female scientist to develop a chemical substance that he could use to terrorize innocent people. During the military mission the female was rescued and Marques was captured. All was well until the helicopter in which he was being transported was shot at, causing a crash landing in a dinosaur infested jungle. The group of military personnel eventually found themselves being attacked by carnivorous dinosaurs. The group was forced to make a life or death decision to cross "death valley." Once across the other side of the valley, the group would be able to make it to the highest point of the jungle where rescuers awaited them. We could share the ending, but can you say SPOILERS?!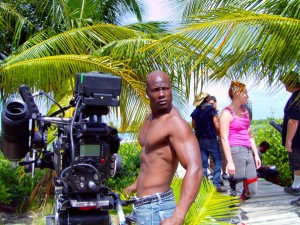 According to Berne, the movie was filmed in the area of Armenia Village and Cave's Branch in the Cayo District and Gracie Rock and Sand Hill Village in the Belize District. "This movie has established me as a solid actor (in Belize). This is the third movie with the same company which has seen my talent and has been able to utilize it. They have come here to do movies featuring me, so I take it as a big compliment to me," said an excited Berne. "I see myself doing more movies and getting more roles. I say there is no limit."
One of the challenges Berne faces is that as a US deportee, it is difficult for him to fully maximize his talent in the US market. He hopes that in the future, he will be able to overcome that challenge and explore his talent to the fullest. "If I could be able to go back to the USA I would be able to do much more movies, because those opportunities have been offered to me. However I am doing very well in Belize and I am pleased and happy with what I am doing here," said an enthusiastic Berne.
Berne said he has several other opportunities to do more movies that he hopes will materialize in the near future. Jurassic Attack was created by The Titan Global Entertainment Films, produced by Mark L. Lester and directed by Anthony Fankhauser. In the world of theater – Jurassic Attack is expected to make it to the screen as an international Sci-fi Film. Berne is also featured in a fourth movie, Poseidon Rex, filmed by the same company, and is expected to be on the screens later this year.
Follow The San Pedro Sun News on Twitter, become a fan on Facebook. Stay updated via RSS