Mo' Mojo Zydeco Band Travels as American Music Abroad to Belize
Friday, January 23rd, 2015
Belmopan—The U.S. Embassy is pleased to announce the visit of the music group Mo' Mojo Zydeco Band as an American Music Abroad program to Belize from January 22 – 29, 2015. The American Music Abroad program is designed to communicate America's rich musical contributions to the global music scene as it fosters cross-cultural communication and people-to-people connection to global audiences. The U.S. Department of State's Bureau of Educational and Cultural Affairs has partnered with American Voices to engage with people across the world through American Music Abroad (AMA) exchanges. These exchanges help promote a positive image of the U.S. through arts and music and give overseas audiences the chance to directly interact with American artists. AMA bands represent a wide variety of American musical genres and will reach more than 40 countries around the world in 2014.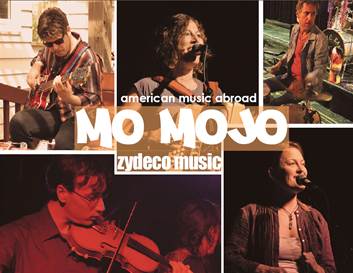 Mo' Mojo's music is all about energy and heat a music that is positive, energetic, and danceable. The group was formed in 1995 under the name of Zydeco Jones. During the past eighteen years the band has matured into an ensemble that takes zydeco and Cajun music and infuses it with Americana, reggae, rock & roll,funk, R&B, and African and Latin rhythms. In addition to their own originals, a Mo' Mojo show includes staple hits from zydeco kingssuch as Clifton Chenier, Boozoo Chavis, and Buckwheat Zydeco,as well as the new zydeco funk sounds of Sean Ardoin and KeithFrank. The band also performs zydeco versions of pop/rock songsby the likes of Led Zepplin, CCR, and Ben Harper.The five members of Mo' Mojo have extensive experience as musiceducators, and their education program provides an interactiveoverview of Zydeco and its many influences.
This is the first time Mo' Mojo will be in Belize as part of their Central America tour and the U.S. Embassy is very excited that they have chosen Belize. While Mo' Mojo visits Belize there will be three concerts, two interactive workshops and two educational workshops facilitated by the Embassy in Sand Pedro, Ambergris Caye on January 24 at 7:00 pm at the Louis Sylvester Sports Complex, in Corozal on January 26 at the Civic Center, and in San Ignacio on January 28 at the Cayo Welcome Center at 7:00 p.m. Tickets are free to the public, but must be acquired in advance of the events through the U.S. Embassy or other local partners such as the San Pedro Town Council, San Pedro House of Culture, Corozal Town Council, Corozal Junior College, San Ignacio/Santa Elena House of Culture NICH and Cayo Welcome Center.
The U.S. Embassy invites the press to cover all of the events associated with the American Music Abroad program in Belize. Please email [email protected] to inquire further.
Concerts
San Pedro, Ambergris Caye
Louis Sylvester Sports Complex
Saturday, January 24, 2015
7:00 pm
Corozal Town
Corozal Civic Center
Monday, January 26, 2015
7:00 pm
San Ignacio Town
Cayo Welcome Center
Wednesday, January 28, 2015
7:00 pm
Follow The San Pedro Sun News on Twitter, become a fan on Facebook. Stay updated via RSS