Reef Radio and Reef TV honor local Belizean musicians
Thursday, February 5th, 2015
Reef Radio and Reef Television honored six local Belizean musicians during a special show on January 31st. The event took place at the Paradise Theatre and saw musicians that have graced the island over the past few years being properly recognized. Those musicians include Jose "Ralfy El Phantom" Collado, Oscar and David Aguilar, Ismael "El Buki" Chacon, Natalie Arceo and Ernestine Carballo.

Each of the six local musicians took to the stage where they performed several musical presentations. First to open the show was Ralfy El Phantom. He brought reggaeton to life, setting the stage for the night. Ralfy was presented with an award from Miguel Perez of Traveller's Liqours Limited.

One of the electrifying parts of the night was to see Don Oscar and his son David Aguilar entertaining the audience. They sang romantic duets as well as rancheras, which earned them a standing ovation from the audience. Both father and son are well respected in San Pedro for their musical talent, which has seen them perform at private and public functions. "One of the mystical powers that can bring a nation and humanity together is music…. Sometimes you don't have to measure your musical success by being on the international stage. In many instances the best of musicians remain safely guarded from the rest of the world only known to a few – the Aguilars are a perfect example," said Jorge Aldana, who presented Oscar and David with their awards.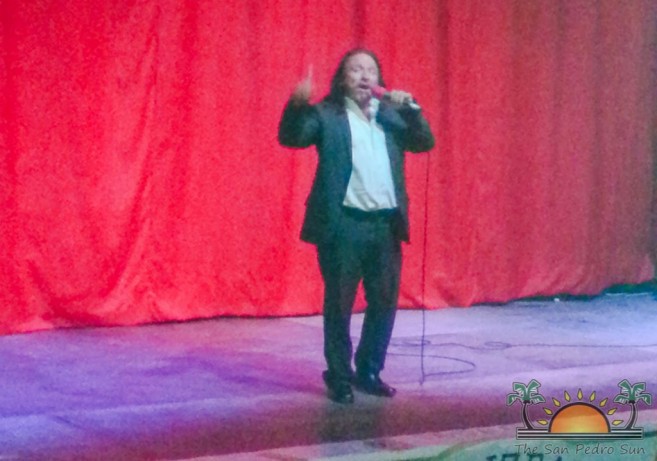 Ismael "El Buki" Chacon, originally from western Belize was also invited to perform. He has been to the island on countless occasions sharing his vocal talent. He interpreted several of Marco Antonio Solis' melodies which he's famous for. After a session of romantic Spanish music, Chacon was presented with an award by Alfonso Castillo of Castillo's Hardware. "San Pedro loves you," said Castillo as he shared a few words about Chacon.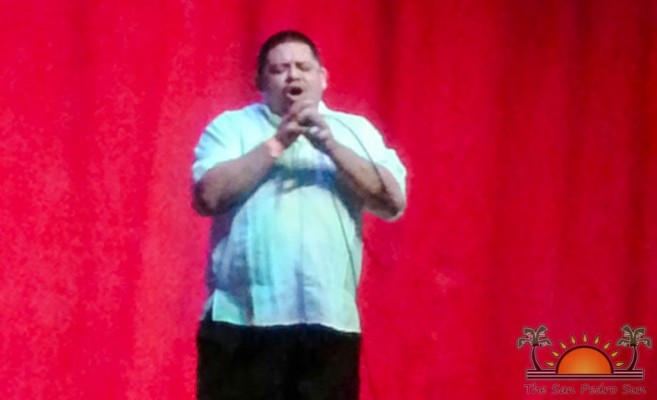 San Pedro's very own and well respected musician in Belize Natalie Arceo also took to the stage with some of her own music. From her upbeat originals inspirited by a few local island musicians, to Lola Beltran's original song entitled "Paloma," her pitch-perfect voice gave the audience goose bumps with each melodious note. "Natalie, you are truly a blessing to San Pedro and this island loves you," said Angel Nuñez as he acknowledged the island's musical icon.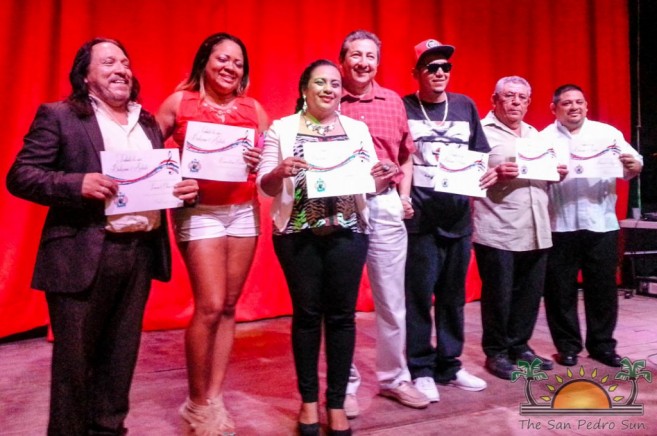 The highlight of the night was the presence of well-known Belizean female Soca Artist Ernestine Carballo. She had the audience dancing in their seats to the beat of carnival music, including some of her original songs. Carballo is one of the very few successful female artists that are well known, loved and respected across Belize. "Ernestine has managed to make a name for herself and that of other women musician in a man-dominated industry in Belize. She has played an integral role in paving the way for upcoming women musicians in Belize," said the Mayor of San Pedro Town Daniel Guerrero, as he introduced Carballo on stage for her award.
According to Proprietor of Reef Radio and Reef TV, the first ever Tribute to Belizean musicians hosted by his company was to show love, respect and most importantly honor musicians who have blessed the Belizean public with their talent. He explained that too often, musicians go through their careers unrecognized, and the tribute to Belizean musicians is a forum to show them appreciation.
It is the hope of Reef Radio and Reef Television to host the event annually, featuring many more Belizean musicians.
Follow The San Pedro Sun News on Twitter, become a fan on Facebook. Stay updated via RSS