First ever Land Rover Car Show held in Orange Walk
Thursday, April 14th, 2016
Classic car enthusiasts were drawn to the northern side of the country for the first ever Land Rover Car Show. On Sunday, April 10th, the Maracas Bar and Grill, Orange Walk, was the location where these sturdy, legendary vehicles were featured. At the end of the show, trophies were given in the category of 'people's pick,' and for the oldest Rolling Rover as well.

After lunch time, an impressive amount of Rovers rolled into the compound ready for display. Spectators admired the cars while enjoying snacks and drinks by the bar. However, they were also making their picks on the best Rover of the show, casting their votes throughout the event, which finished in the late afternoon.

According to organizers, Matt Brislawn and Sharon Svec, the idea to hold such a show was to bring Rover owners in Belize together. They believe that there is a passion for these vehicles in the country, and such holders can provide information and ideas about their impact on Belize's history. "The Land Rover is widely recognized throughout Belize," said Brislawn. "This all-terrain power horse continues to be the vehicle of choice for traversing Belize's diverse landscape."

After an afternoon of inspections and spectators making their picks, awards were handed out. Bruce Sanchez, with his 1992 Rover was awarded the third place in the People's choice. This was followed by Yali Ayuso in second place and Steve Davis, with his dark green Rover, revved up to collect first place.
However, there was one additional prize to be awarded: the oldest car on the list. To much fanfare and drumroll, Yali Ayuso happily claimed the beautiful trophy for his 1972 harsh terrain machine.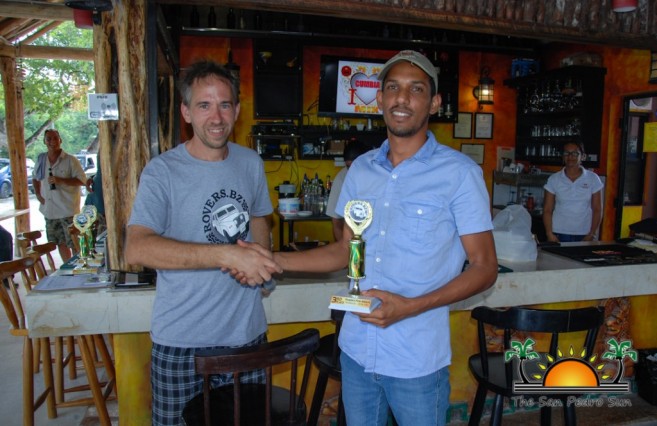 Given that the event was the first of its kind, organizers were pleased at the turnout. Plans are in store for annual events in different areas of the country, and as the fun evolves, the idea is to provide more sponsorship opportunities, tables for vendors, and fundraising for selected charitable organizations.
The Land Rover has long been part of the Belizean car era, as it was the vehicle of choice of the late Rt. Hon. George Price. The vehicle was also widely used by the government in the 1990's and it is the favourite of the Belize Defence Force, while conducting their border patrols in the Chiquibul Area of the Cayo District.
Organizers of the event thank everyone who made the event possible, and call on anyone interested in serving on a planning committee, or being a sponsor, to contact them at 667-9284 or via email to [email protected]
Follow The San Pedro Sun News on Twitter, become a fan on Facebook. Stay updated via RSS