Another Halloween to remember at Holiday Hotel
Tuesday, November 1st, 2016
Another epic Halloween Party was held on Saturday, October 29th at the Holiday Hotel on Barrier Reef Drive. The anticipated annual celebration attracts people from different walks of life who bring out their best costumes to impress judges and get a chance to win some fabulous prizes. From the most creative, to the elegant, creepiest and spectacular, this year was another scary and crazy night to remember!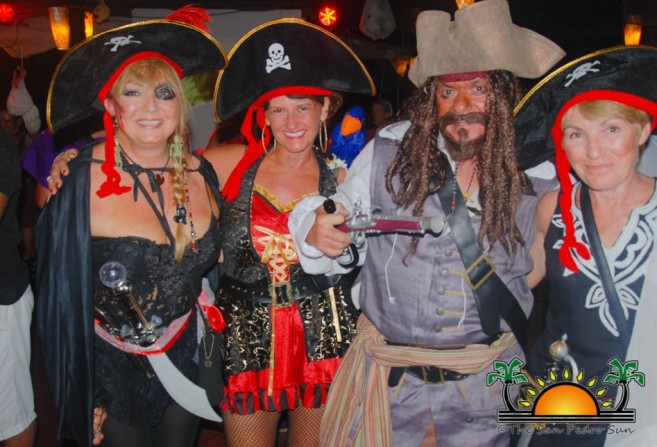 Shortly after 9PM, a large crowd of onlookers gathered around the traditional orange carpet that extended for almost a block. One by one, attendees began making their way down the carpet to an audience that was amazed at each unique costume.

From monsters, vampires, pirates, witches, unknown creatures, zombies, super heroes, villains, and even a group of cereal characters, the party got bigger and bigger as the hours passed. In keeping with current times, there was even a portrayal of U.S Presidential Candidates Hilary Clinton and Donald Trump, along with a Miss Universe participant. The event was so irresistible that people from outside of planet Earth stopped by! Yes, the whole crew from Star Wars was present at the party.

Tasked with the hardest job of the evening to determine the winners of this year's bash were judges Dion Vansen, Enrique de Leon, and Dianela Hancock. It was a tough task, as almost every costume was exceptional. After a few hours of partying and socializing, Master of Ceremonies David Marin congratulated everyone for making the event successful one once again. He commended everyone for keeping up a celebration that has become a tradition and making Holiday Hotel the place to be for Halloween. Then it was time to announce the winners.

The first prize announced was for the 1st Costume to Show-up and it went to Bret and Irina. They won one case of Belikin Beer courtesy of Bowen and Bowen.

The prize for the Craziest costume, a $50 gift certificate courtesy of El Fogon went to Jaime Bautista for his costume 'Stop raping Belize.'
Next, was the award for Best Make up and it went to Alejandra Gomez. She took home two round trip boat tickets to Caye Caulker courtesy of San Pedro Belize Express.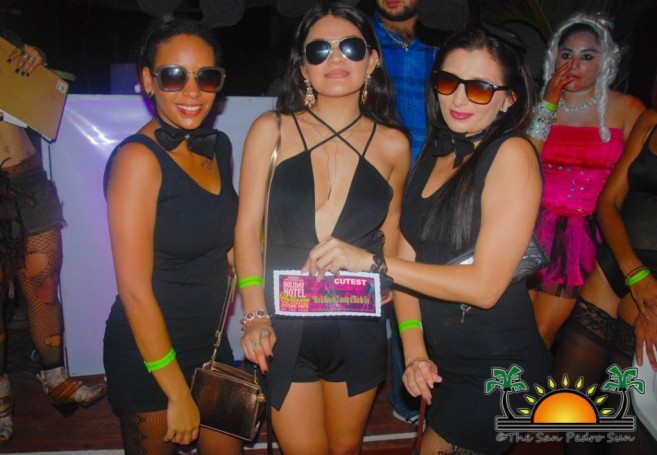 The Cutest Prize went to the costume Three Blind Mice and their prize was wine and cheese for two courtesy of Wine De Vine. This was followed by Manager's Favourite which was awarded to Jack in the Box. They received a $100 gift certificate courtesy of Caprise Bar and Grill and three months membership courtesy of Train Station Fitness Club.

The costume featuring 'Bad Granpa' won the prize for the Wildest, which was a $100 gift certificate courtesy of Mirab.
In the category for best couples, the winner was 'For the Love of Venice' won a $100 courtesy of Evoo Euro Bistro.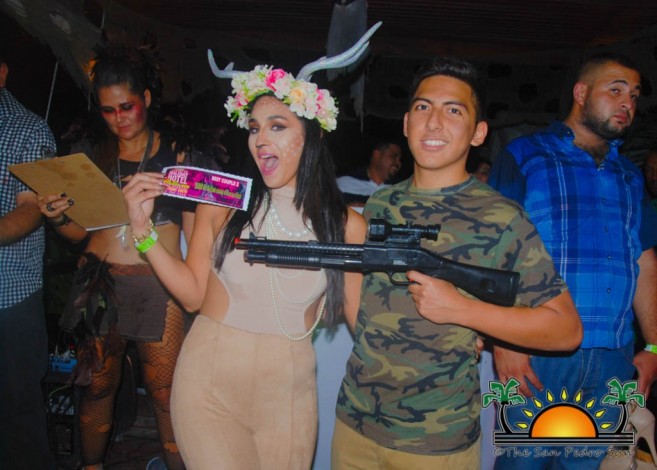 The other best couple prize went to the Deer and the Hunter who walked away with a $100 gift certificate courtesy of Red Ginger.

In the Least Recognizable category, a costume dubbed as the Scarecrow won a four bottles of wine courtesy of LC Distributors.

In the Group category, a prize consisting of two cases of Belikin Beer from Bowen and Bowen and a sunset sail with Searious Adventures, was won by the 'Star Wars' group.

The Funniest award went to a hilarious costume called Happy Monkey. The winner walked away with a $150 gift certificate courtesy of Castillo's Hardware.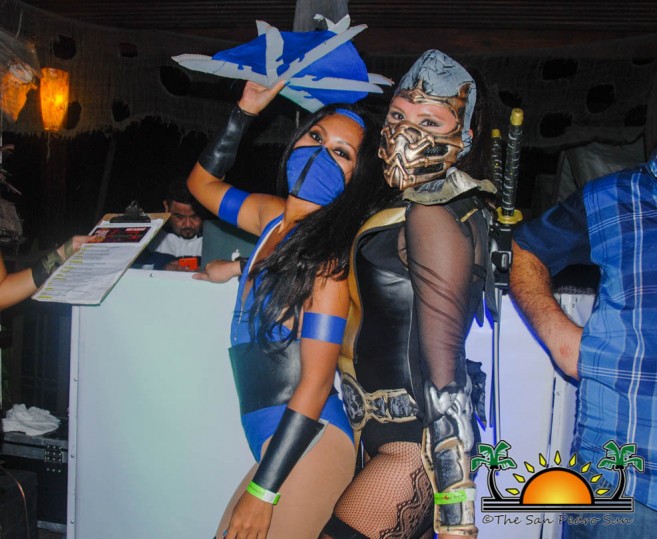 The Sexiest award was given to Deli Eiley who walked away with a $75 gift certificate courtesy of Pink Boutique.

Most Elegant went to Maleficent, who won a $100 gift certificate from Foreva Fancy Boutique.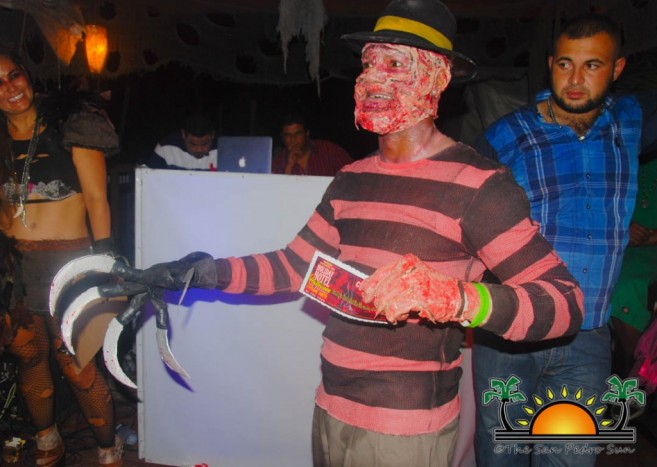 This was followed by the Creepiest costume, which was awarded to Freddie Krueger.

Most Spectacular prize went to the Man O War 'Jelly Fish' costume worn by Erin de Santiago. She won two round trip tickets to Belize City from San Pedro Belize Express, 2 nights stay for two with breakfast courtesy of Cahal Pech Village Resort and a $75 gift certificate courtesy of Brodies & Co. Ltd.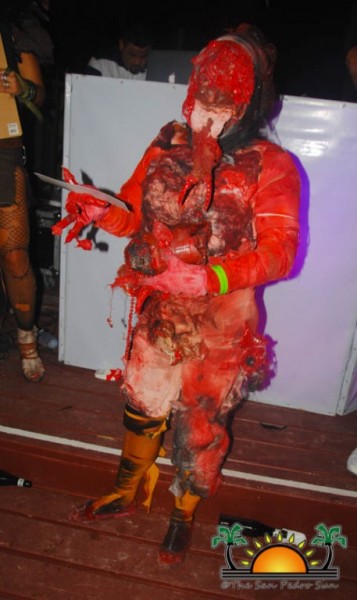 'The Unknown' by Alba Deli was awarded for Scariest with two round trip airfare tickets either to Merida or Cancun courtesy of Tropic Air and a $200 gift certificate from Wings Store.

The top prize for Most Creative had a clear winner in 'La Viuda de Blanco' by Leonel Millian. His costume displayed 100% creativity as it was all made from scratch. He won a cash prize of $1,000 courtesy of Holiday Hotel, two nights stay at Hotel Los Cocos in Chetumal, Mexico and a $100 gift certificate along with a gift basket courtesy of 12 Belize.

Halloween has come and gone, but participants of this year's event are already beginning to plan how to outdo this year's costumes. Who knows what next year's event will bring! We will just have to wait and see.
Congratulations to all the participants who made Holiday Halloween Bash 2016 another successful celebration!
Follow The San Pedro Sun News on Twitter, become a fan on Facebook. Stay updated via RSS