2016 Holiday Lighted Boat Parade brings the Christmas Season to Ambergris Caye
Monday, December 19th, 2016
The coast of San Pedro Town was once again brightly lit with elaborately decorated boats during the annual Holiday Lighted Boat parade held on Saturday, December 17th. The traditional event, which officially brings in the Christmas holiday season, saw residents and visitors flock to the beach and docks along the parade route to view the colorfully lit vessels. All proceeds from the event went towards charitable organizations on the island, including Raise Me Up, who was part of the boat parade committee this year.

Shortly after 5:30PM all seven boats participating in this year's event left from in front of Wayo's Beach Bar, shining brightly on the water as they made their way south along the designated route. Leading the way was a completely spectacular show courtesy of Flyboard San Pedro.
Flyboarders decked in lit costumes hovered over the water, splashing and diving and hovering, much to the delight of onlookers who gasped with each theatrical display. It was a grand introduction to the lighted boats that followed behind. From champagne glasses, to a mermaid in repose, to a giant whale shark and even a moving marlin, each boat showcased hard work and creativity.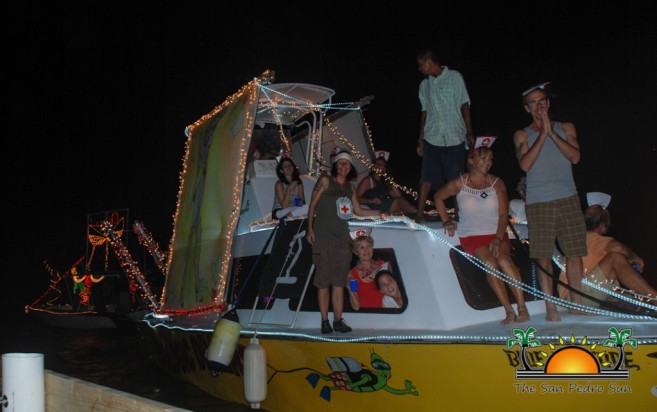 As the parade proceeded south, they passed the official viewing station at Skydive San Pedro's dock, where judges got their first glance at the boats. The boats made their way to Crazy Canuck's Beach Bar where they turned around to head back north for the judge's second look. This year's panel consisted of Mayor Daniel Guerrero, Miss San Pedro 2016-2017 Marisha Thompson, The San Pedro Sun Associate Editor Mary Gonzalez, Rebecca Coutant of San Pedro Scoop, Melanie Paz of San Pedro Lions Club, and Ambergris Today Editor Dorian Nuñez.

The parade ended at SandBar Beachfront Hostel and Restaurant, where the award ceremony took place. As the points were tallied, the crowd was treated to a fire dancing show. Following that, the winners of this year's boat parade were announced.
Taking third place, and in the 'charity category', was Island Divers/San Pedro AIDS Commission and sponsored by Island Divers.
Second place went to H.M.S Shag at Sea, sponsored by The Phoenix Resort and Chuck and Robbie's Dive Shop.
In first place, taking the top prize was Caye Da Di Sea, sponsored by Dooley Bear Adventures.
Honorable mentions also went out to Mi Vida Loca sponsored by Belize Diving Adventures, No Problem sponsored by Premier Divers, and Blue Attitude, sponsored by Ecological Divers/Charity Belize Red Cross.
After the award ceremony, everyone participated in a 50/50 raffle and silent auctions. The lucky winner for the 50/50 raffle was Daniel Fisher, who took home half of the$1744 pot. There was much celebration throughout the night, with lots to eat and drink.
Organizers of the boat parade would like to congratulate all winners and participants of this year's event.
They also extend a BIG thank you to all who came out and support. Special thanks goes out to all sponsors: Dooley Bear Adventures, Island Dream Tours, Ecologic Divers, Island Divers Belize, Palapa Bar and Grill, Xsite Belize, Skydive San Pedro, Blue Water Grill, Nook Restaurant and Cocktail Boutique, Wayo's Beach Bar and Aqua Vista Beachfront Suites, Wild Mango's, Crazy Canuck's Beach Bar, Estel's Dine by the Sea, Premier Boutique Diving, and Sandbar Beachfront Hostel and Restaurant.
Follow The San Pedro Sun News on Twitter, become a fan on Facebook. Stay updated via RSS