Green Reef holds first of four conservation consultations
Friday, October 15th, 2010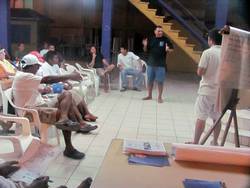 Green Reef held its first in a series of four consultations entitled "Conservation and Management of Sport Fish in Belize" on Wednesday October 6th at the San Pedro Lion's Den. The consultations are part of a grant aided project which was awarded to Green Reef by PACT (Protected Areas Conservation Trust) in 2009. The meeting was opened by Mr. Billie Leslie who offered a formal welcome to all present. Mito Paz, Executive Director of Green Reef, with the assistance of Valentine Rosado presented and facilitated.
All stakeholders were invited, including members from the Private sector, Public sector and Government. In his initial address, Mr. Leslie mentioned the importance and challenges in protecting and maintaining the various fish species that are protected, namely the Tarpon, Permit and Bonefish. Fishes targeted in the sport of Fishing. These fishes are fished solely for the purpose of catch and release.
The objective of the meeting was to present information acquired through Habitat mapping of the fishes used in Sports Fishing, acquire feedback from individuals present to assist in the development of management methods or measures for the conservation of sports fish.
Mito's presentation reflected the economical importance of sports fish, highlighting the over 100 independent fishing guides and 13 fishing lodges that exist in the country. The employment opportunities that are provided by the fishing industry would be severely affected, should this industry not be properly managed.
Green Reef has taken the initiative to protect sports fish in Belize. Methods being used to do this are:
Create legislation to regulate gill netting practices in Belize
Mapping location of key Sports Fishing population
Create educational & Outreach material about sail fish conservation
Broadening scientific knowledge about where Sports Fish reproduce
Develop management guidelines for sport fish conservation.
Through these methods, Green Reef hopes to decrease the mortality rate of Sports Fish from gill netting, increase public awareness about Sports Fish Conservation needs and establish a model of protected area for conservation and management of sports fish.
Among the areas of discussion were, Fishing license fees – collection and management; education and awareness – amendment to existing law; protection of critical habitat, banning of netting as a means to fish as well as development in wetlands.
The next consultation is scheduled to be held in Punta Gorda on Tuesday October 12th starting at 6:30 PM at the Parish Hall; Wednesday October 13th for stakeholders of Placencia, Monkey River and Hopkins at 6:30pm at Placencia Community Center and the final stakeholder meeting is scheduled to be held at the Coastal Zone Management Office in Belize City on Thursday October 14th starting at 1:30pm and will target stakeholders from Belize City, Turneffe and Light House Reef. For further information on the workshop and the program feel free to contact Mr. Mito Paz at 650-7504.
Follow The San Pedro Sun News on Twitter, become a fan on Facebook. Stay updated via RSS