Bottom Trawling banned in Belize
Thursday, December 16th, 2010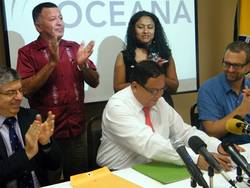 Key members of Oceana's Board of Directors, as well as members of GOB and the Fisheries Department, were present at the press conference held at the Conference Room of the Chamber of Commerce building in Belize City for the signing of the Statutory Instrument (SI), banning trawling in Belize. The conference was held on Wednesday, November 8th at 2:00pm. Present were: Mr. Andrew Sharpless, Chief Executive Officer (CEO) of Oceana International; Mr. Ted Danson, Actor/Activist and member of Oceana's Board of Directors; Dr. Kristian Parker, Chairman of Oceana International and The Oak Foundation; Hon. Rene Montero, Minister of Agriculture and Fisheries; Mr. Cesar Gaviria, former president of Columbia and former Secretary General of the Organization of American States (OAS); Hon. Manuel Heredia Jr., Minister of Tourism Aviation and advisor to Government on Fisheries issues; and Ms. Audrey Matura Shepherd, Vice President of Oceana Belize.
The issue on the table was Bottom Trawling. Bottom Trawling is a process that uses bottom trawl nets to catch shrimp and fish living on the oceans seafloor. Trawling involves a net being hauled by a ship, literally scraping the sea floor, picking up all that lays in its path, starting from the shallow depths near the shoreline to extreme depths. The nets are kept on the sea floor by using heavy weights. There are additional metal "doors" that are used to hold the nets open. These "doors" can weight several hundred pounds and maintain the nets opened up to 40 feet tall and 200 feet wide. While the main purpose of this process is to capture shrimp, many other sea life forms are captured and later released, including undersized fish, turtles, seabirds, marine mammals and others. Many of these captured animals are discarded by bottom trawls and later die. Due to the small mesh used to capture the shrimp, there is really no room for other animals to escape.
Furthermore, this practice has contributed to either disturbing or destroying sea grass, coral reefs and rock gardens, all of which provide habitat or a place of refuge for numerous marine lives. According to Ms. Matura-Shepherd, research has shown that bottom trawling is one of the most destructive ways to catch fish, and is responsible for up to half of all the discarded fish and marine life worldwide.
"The signing ceremony came about as the Prime Minister has decided to ban bottom trawling in Belize", stated Honorable Rene Montero who was on hand to sign the Statutory Instrument. The Minister went on to give thanks and special recognition to Ms. Matura Shepherd, "for making this event possible, it is through her negotiation skills and her commitment that has contributed to this historic signing of the SI which is now a page in the history of Belize, her continued persistence and commitment to the project was.
Mr. Montero further stated, "the signing of this Statutory Instrument banning trawling in Belizean waters is not only a momentous occasion but also a historic one, as Belize has taken a giant step in becoming the third country in the entire world to ban bottom trawling". Mr. Montero went on to thank Prime Minister Dean Barrow, "for not only supporting the project, but for his personal commitment to protecting and preserving our marine resources for future generations and to all the other bodies that contributed to assuring the outcome that was secured to maintain marine resources in a sustainable manner for the benefit of all Belizeans". Ending his presentation, Honorable Minister Montero vowed that in his capacity as Minister of Fisheries, he will do all that is humanly possible to protect and preserve Belize's marine resources, by ensuring compliance to procedures which encompasses a responsible and sustainable management system.
Mr. Manuel Heredia re-stated the commitment of himself and his administration to maintaining a safe, sustainable environment and strengthening Belize's fishing industry and do as much as he can within his Ministry's reach, furthermore, he assured that his government will make whatever decision it takes to make certain that our environment is preserved and reserved for the residents of Belize. Mr. Ted Danson was excited to be in Belize to witness the signing of the SI. Others present congratulated the powers that be that made this event possible and vowed to work hand in hand for continued sustainable development.The signing of the SI means that all forms of trawling in Belize have been banned in the country's waters including its Exclusive Economic Zone (EEZ). While the signing took place on the December 8th, the ban will take effect on December 31st, 2010.
Follow The San Pedro Sun News on Twitter, become a fan on Facebook. Stay updated via RSS