Problematic Croc Preys on Pets
Sunday, November 13th, 2011
On Saturday morning, October 29th, the American Crocodile Education Sanctuary (ACES) received a call from a resident in the San Pablo area that their pet dog had sustained injuries from a crocodile attack. Vince Rose, ACES Animal Behaviourist responded to the call and confirmed that the lucky pooch had narrowly escaped uncertain death with superficial lacerations to its left back leg. Based on information from the pet owner, and spotting a crocodile in the nearby canal, Rose ascertained that indeed there was a large crocodile residing in the area that could very well be preying on dogs. Unfortunately before measures could be taken to capture and relocate the problematic crocodile it managed to kill a pet dog in the neighbouring canal.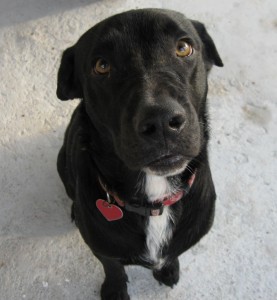 On Tuesday, November 1st, ACES responded to a call from Tamara Sniffin that her pet dog Maya, who had gone missing for less than 24 hours, was found floating under her boat dock along with a large crocodile that was apparently guarding the dead animal. The ACES team attempted to capture the crocodile without success. They thoughtfully removed and disposed of the deceased pet at the owner's request. Two days later, on Friday the 4th of November, Sniffin spotted the croc with another dead dog in the same location under her dock. ACES was again called to the scene and were able to recover the dog from the water while pursuing the crocodile. They soon learned that the unfortunate dog, Mugzi, was the pet of Melody Sanchez who also lives on a nearby canal in the San Pablo area.
ACES proceeded with setting up a netted trap to capture the problematic croc and on Monday night, November 7th the ACES team, with the help of able-bodied neighbours successfully trapped and relocated the large, very aggressive croc. Measuring 10.7' with approximately 13 " missing from its tail, #26 was first captured by ACES on May 15, 2011 at the WASA Lagoon where the animal had been habitually feed by local boys as an illegal tourist attraction. The animal was relocated to the Mata Grande proposed wildlife area several miles north of San Pedro but reappeared on August 24th when ACES was called to a "croc in the pool" call from the Las Terrazas Resort.
At this point, and with the approval of the Belize Forest Department, ACES would have permanently contained this dangerous animal at their sanctuary facility north of San Pedro or at their facility on the mainland in Ladyville where he could no longer be a threat to people and pets. The contained animal would then serve as an educational opportunity for those visiting the ACES facility. However, due to a lack in funding ACES is yet to have adequate containment units for the problematic animals and they have no choice but to relocate the animals far from populated areas in hopes that it won't return to the areas they associate with easy food.
Unfortunately this is the case with #26, who after being relocated for a second time to the Mata Grande area in August eventually travelled to the San Pablo area south of San Pedro in search of an effortless meal. The cunning croc, which has apparently developed a taste for dogs, was once again relocated to the Mata Grande area on Monday night.
According to ACES Biologist Cherie Chenot-Rose, they have on record eight repeat offender crocodiles, all longer than six feet in length. One croc has been recaptured as many as five times. "These repeat offenders are highly problematic, dangerous animals that need to be removed from this area. As a protected species this is our only option. Until we can find funding to construct additional containment units our only choice is to relocate them. It is not the answer to the problem and it does not assure the safety of the community or the animal. Chances are they will again return to their original habitat," stated Rose.
ACES is an essential conservation organization to our community that not only assists in removing problematic crocodiles but protects and conserves these apex predators that are crucial to our marine ecosystem. For more information about ACES and how you can donate please visit their website at www.americancrocodilesanctuary.org. To report a problematic crocodile please call 631-6366.
Follow The San Pedro Sun News on Twitter, become a fan on Facebook. Stay updated via RSS