ACCSD welcomes Environmentalists to San Pedro
Friday, May 11th, 2012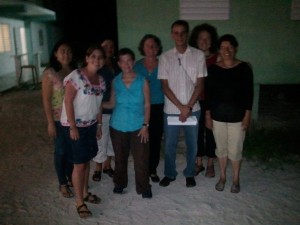 Photos and article submitted by Ambergris Caye Citizens for Sustainable Developed
Last week Ambergris Caye Citizens for Sustainable Development (ACCSD) were honored to have the visit of Ms. Lori Maddox and Heidi Weiskel from ELAW, USA  along with colleagues Alejandra Serrano –CEMDA Mexico, Emilio d'Cuire – IDAMHO Honduras, Jeanette Noack – Alianza de Derecho Ambiental y Agua, Guatemala, Candy Gonzalez – Belpo, Belize and Mary Toy and Adrian Vernon – PCSD Placencia, Belize. They were welcomed by ACCSD with a tour to the proposed marine protected areas in the Mexico Rock's, Los Bajos and Mata Cayo Frances Lagoon. During the afternoon they met at the ACCSD office for a meeting with the Board of Directors of ACCSD.
The purpose of the reunion was to share the effects and strategies to preserve the natural resources shared among the respective countries. ACCSD briefly gave a description about the proposed marine protected areas they are currently working on, which are Los Bajos, Mexico Rocks and Mata Cayo Frances Lagoon. Each attendee was able to share their own strategies, methods and results on their countries and on goals which they are working on together with their communities to protect their environments.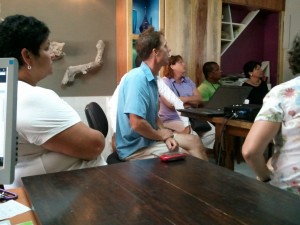 The representatives from Honduras, Guatemala and Mexico had the opportunity to make a presentation at the San Pedro Junior College, with individual reports on efforts made in their countries to protect the shared natural resources in the eco-region. Each explained how they have been working together with their communities to preserve the reef/ocean ecosystems.  Students were attentive and seemed to be very interested in the night's presentation. On Thursday morning, they were taken on a snorkeling trip to the Hol Chan Marine Reserve and Shark Ray Alley to enjoy one of San Pedro's main tourist attractions. Our colleagues in Environmental Laws were well satisfied and congratulated ACCSD on how they initiated their association and on their work's progress. They plan to work together with ACCSD on future cases in environmental opportunities that may arise and be of benefit to the country.
ACCSD would like to give thanks to Seaduced Tours for providing transportation to the marine sites and to The Palms Condominiums for accommodating our colleagues. Also special thanks to the San Pedro Junior College for allowing our colleagues to make the presentation to the students a success.
Follow The San Pedro Sun News on Twitter, become a fan on Facebook. Stay updated via RSS