The PACT Foundation Awards over $200,000 in grants to protected areas
Wednesday, September 12th, 2012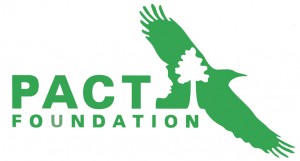 The PACT FOUNDATION, in conjunction with the Protected Areas Conservation Trust (PACT), proudly announces the award of five (5) small grants today to five (5) Non-governmental Organizations to aid in the management of conservation efforts in Belize.
The recipients of these grants are:
• Friends for Conservation and Development (FCD) – $40,000 for the management of the Chiquibul National Park to assess the effects of poaching on game species communities in order to develop management and conservation interventions;
• Sarstoon Temash Institute for Indigenous Management (SATIIM) – $35,351 for park management, community ranger patrols on the seismic trails, documentation of changes in biodiversity, and signage along trails and borders;
• Sarstoon Temash Institute for Indigenous Management (SATIIM) – emergency grant of $6,000 for a fire assessment in the Sarstoon Temash National Park;
• Steadfast Tourism and Conservation Association (STACA) – $39,648 for increased enforcement and patrol to ensure proper management, protection and monitoring of the parks' natural resources;
• Rancho Dolores Environmental and Development Group – $40,000 for the re-opening of demarcation line and trails damaged during the wildfires that occurred in June 2011 affecting at least 90% of the sanctuary's wildlife; and
• Forest and Marine Reserve Association of Caye Caulker (FAMRACC) – $40,000 for habitat restoration coupled with infrastructure improvement.
The five grants awarded totaled BZ $200,000 and will further aid in the biodiversity conservation of Belize's terrestrial protected areas.
The Foundation continues to serve as a key partner in financing biodiversity conservation with clear and tangible benefits to the natural heritage, economy and people of Belize. The PACT Foundation takes this opportunity to thank its partners, especially its grantees, for their commitment and continued efforts for the sustainable management of our protected areas.
The PACT Foundation was officially established in November 2004 to administer funds from Belize's Debt for Nature Swap for grants to community based and non-governmental organizations through a grants program. The main objective of the Foundation is to promote the development and implementation of projects that assist with the protection and maintenance of Belize's protected areas by leveraging resources and awarding grants to deserving organizations and projects. The Foundation's Grants Program day to day operation is managed by the Protected Areas Conservation Trust (PACT) through a management agreement from the PACT Foundation.
For more information on this and other grants please visit PACT's website at www.pactbelize.org or email [email protected]
Follow The San Pedro Sun News on Twitter, become a fan on Facebook. Stay updated via RSS