The Belize Barrier Reef gets its 2012 Report Card
Thursday, December 6th, 2012
The Belize Barrier Reef, one of, if not THE major source of income for the entire country of Belize, has been in the media for quite some time now. With the threat of losing the status of a World Heritage Site, and the threat of offshore oil drilling, the health condition of our reef is at the forefront of the minds of almost everyone living in the country that is aware of its value.
In San Pedro Town, it is the jewel that we take pride in having at our fingertips. It is a selling point for individuals marketing timeshares, condos and property on the island. It provides food for most fishermen that have made fishing their livelihoods. It provides a habitat for a vast variety of marine life and is home to some of the most beautiful corals in the world; all balancing a delicate marine ecosystem.
On December 4th Healthy Reef Initiative (HRI) issued their 2012 report card on the state of the world's second largest uninterrupted barrier reef. According to Dr. Melanie McField, Director of HRI, this is somewhat of an annual physical assessment of the reef's health. The report looks at four specific indicators, two of which deals with the hard bottom of the reef. The other two components include measuring the amount of fish, and in particular the omnivores fish, such as parrot fish, tangs and surgeonfish. The fourth component is measuring the top predators or commercial fish such as the groupers and snappers.
The 2012 Report Card highlights three focal sections: existing and emerging threats to the reefs health; an assessment on the current state of the reef and social context; highlights of reef conservation actions across the region, including the prioritized recommendations to foster healthy reefs and healthy people.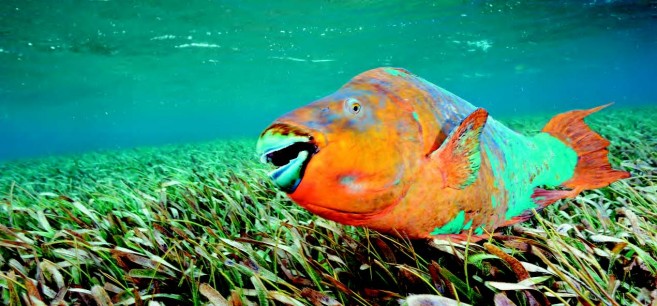 Threats included: the rapid and widespread invasion of the exotic lionfish; climate change, with a fresh look at ocean acidification already in progress; marine-based threats, including plastic debris and oil exploration; land based threats, including sedimentation and nutrient enrichment; and finally urbanization, as measured through the proxy of 'nightime lights".
The invasion by the Indo-Pacific lionfish (Pterois volitans) of the Caribbean is emerging as a major threat to coral reef communities across the region. First recorded in the Meso-American region in 2008, lionfish are now common. By 2012 lionfish were recorded in almost a quarter of the sites surveyed by HRI teams for this report (30 out of 133 sites). Honduras had the highest densities and greatest frequency of occurrence (17 of 59 sites), while in Mexico and Belize sighting s were led frequent, likely due to the intensive fishing effort of local authorities (e.g. CONANP) and other organizations to eradicate them.

Oceanic uptake of anthropogenic carbon dioxide (CO2) is altering the chemistry of the world's oceans. The increase in CO2, produced primarily by the burning of fossil fuels, deforestation and agriculture, enters the ocean and causes acidification. This process significantly reduces the ability of reef-building corals and other calcifiers to produce their skeletons, reducing growth rates and the ability of the larger reef ecosystem to maintain a positive balance between reef building and reef erosion. The rapidly increasing global temperature is already having negative effects on coral populations via at least four mechanisms: Coral bleaching events result when the coral's helpful symbiotic algae are released from the host due to stress; coral disease outbreaks often follow bleaching because stressed corals are more susceptible to infections which can kill large numbers of colonies; hurricane intensity and frequency
influence the magnitude of coral cover loss; recent scientific evidence suggests that hurricane intensity has already increased and will continue to increase along with temperature; and sea level rise will cause lower light conditions that jeopardizes coral growth on deeper reefs.
Other aspects that affect our reef includes oil spills that can destroy marine ecosystems if they come in contact with corals, mangroves or sea grass beds. Indirect effects of even low level contamination include the disruption of coral reproduction, growth, recruitment and development. Contamination and closure of seafood production occurs when fishing areas are exposed to toxins. Plastic debris, including bottles, bags and loose fishing gear, suffocate and debilitate marine life (i.e. turtles, seabirds). Targeting the largest individuals in a fishery reduces successful replenishing of the population and ecological functioning is severely affected by the loss of predatory fish and sharks.
The Report also gives a quick overview of the human dimension by analyzing coastal versus national poverty indices; then it describes the process of site selection, and reef health indicator criteria that constitute the Healthy Reef Index. Data collected in 2011/12 at 80 representative sites are compared to data collected for previous report cards (2008) to show how these reefs have changed since 2006. At 50 reef sites there are evaluations covering all three reporting periods, which are compared for the different reef health classifications.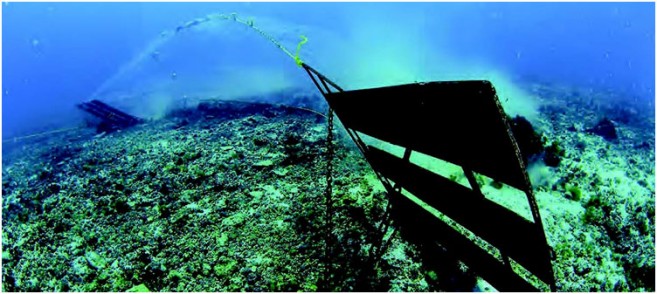 So, how exactly is our reef doing? According to McField, "Poorly; overall it's poor if you want it in one word." Speaking to Jules Vasquez of Channel 7, McField explained, "A slight improvement, it's a little less poor than the last time. I would say that it's close to crisis but it's not fully in crisis. We have some components that are fairly easy to come back with the right management. We are on the verge of crisis but we are not in crisis. Our reef is a step above, its sick but it's not terminal."
As the caretakers of this sick jewel, what can we do to guarantee its survival? Dr. McField continued, "What you can do – I think one of the main things that Belizeans can do is support the fisheries laws. Too many people are buying out of season undersized lobster and conch and these things matter and I think talking to your friends that fish and letting them know that we really want to have fish in the future; we can't take the last fish. We do need to have regulations on fin fish. We can't just keep fishing fish without any regulations. We just need to have a decent percent of our waters; 15-20% or you leave the fish alone. Let them breed, let them repopulate. They will be good Belizean fish – they will breed well if we just leave them alone."
With this said, our objective should be clear. As purchasers – do not purchase undersized or illegal fish – and as fishermen, avoid fishing undersized or illegal fishes. Allow the young ones to grow to maturity and in that way, secure our reef's future. Apart from this, consider the following:
Reduce-Reuse-Recycle.
Ride a bike, walk or use public transportation instead of driving.
Plant trees and other vegetation.
Save energy, disconnect your appliances.
Use alternative energy (solar panels or wind generators).
Change your normal light bulbs for fluorescent and LED bulbs.
Choose reusable items and use fewer disposable ones.
Properly stow all pieces of fishing line, net and other litter for proper disposal in trash containers on land.
Get involved in cleanups in your area and encourage others to help on clean-ups.
Demand proper labeling on fish products: including species and source area.
Never buy products made from shark fins.
LEARN AND ABIDE by all local fishing regulations, including closed seasons, size limits and gear restrictions. What you buy and eat are important personal actions.
Avoid dumping house hold cleaners down drains and sewers.
Save water and reduce your consumption when taking showers, washing/cleaning dishes, etc. About 70% of the waste water is grey water (soaps, shampoo, detergents, cleaning liquids).
Use biodegradable and ecofriendly cleaners.
Adopt best management practices in industry and agriculture, including reduction of chemical use.
Urge municipalities to invest in adequate sewage treatment facilities or fully treat your own waste.
Only eat seafood harvested from clean harvesting areas.
Implement water free technologies, for example using water free urinals saves 151,000 L per unit a year.
Photo Gallery
Please help support Local Journalism in Belize
For the first time in the history of the island's community newspaper, The San Pedro Sun is appealing to their thousands of readers to help support the paper during the COVID-19 pandemic. Since 1991 we have tirelessly provided vital local and national news. Now, more than ever, our community depends on us for trustworthy reporting, but our hard work comes with a cost. We need your support to keep delivering the news you rely on each and every day. Every reader contribution, however big or small, is so valuable. Please support us by making a contribution.
Click to Donate
Follow The San Pedro Sun News on Twitter, become a fan on Facebook. Stay updated via RSS