Lisel Alamilla to receive University of Idaho International Alumni Achievement Award
Thursday, April 18th, 2013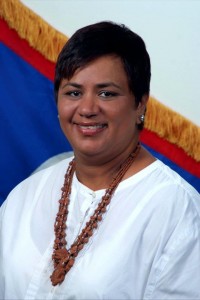 Press Release – Government Press Office – April 17, 2013 – The Senator, Honorable Lisel Alamilla, Minister of Forestry, Fisheries and Sustainable Development for Belize, has been honored by the University of Idaho's College of Natural Resources (CNR), as the winner of its, "2013 International Alumni Achievement Award". She will be presented with the award at a banquet honoring outstanding CNR alumni and students in Moscow, Idaho, on Thursday, April 18, 2013.
Minister Alamilla was nominated for this award due to her outstanding achievements, including her appointment as a minister in Belize's Cabinet, her selection as winner of the 2012 Whitley Award for Nature and her selection as winner of the 2010 Marsh Award for Conservation Leadership.
Each year the CNR Leadership Team convenes to nominate six distinguish college alumni for awards. The International Alumni Achievement Award is given to an alumnus who has a career is some aspect of natural resources, whose career exemplifies a record of distinction and international service in natural resources, and who is recognized as having made a difference in natural resource management in their country.
Minister Alamilla earned a Master's Degree in Conservation Social Science from the UIdaho College of Natural Resources in 1995. She was one of 15 students from Central America who participated in the university's Regional Office of Central American Program, (ROCAP) Scholars program.
CNR has been training natural resources managers for more than 100 years. The college is composed of three departments: Conservation Social Science; Fish and Wildlife Sciences; and Forest, Rangeland, and Fire Sciences. It offers eight undergraduate degree programs, three master's degree options and a doctoral program.
Award-winning alumni, such as Minister Alamilla, challenge future generations of natural resource managers and scientists and inspire them to apply their knowledge to address the real-world natural resource issues that face the planet.
Congratulations Minister Lisel Alamilla!!
Follow The San Pedro Sun News on Twitter, become a fan on Facebook. Stay updated via RSS