DOE revokes dredging permit from 'Royal Belizean Land Company SA'
Friday, May 3rd, 2013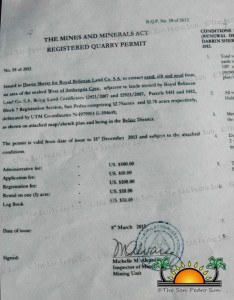 The Government of Belize, through the Ministry of Natural Resources and Agriculture via the Mining Unit has revoked a dredging permit and issued a stop order against a development carried out by property owner Darrin Sherry on behalf of Royal Belizean Land Co. S.A. The letter was served on April 25th to Sherry by Mining Unit's Mining Inspector Michelle Alvarez. The San Pedro Sun first broke the story on April 18th about concerns brought up by a few sport fishermen. The fishermen expressed their issues about ongoing excavation as part of a development located north of the San Pedro Marina Channel (located south-west of Ambergris Caye) on a fragile area considered prime habitat off Ambergris Caye for bone and permit fish, two protected fish species in Belize.
The revocation letter states, "You are hereby informed that Registered Quarry Permit No. 85 of 2013 issued to Darrin Sherry for Royal Belizean Land Co. S.A is hereby revoked for failure to comply with the terms and conditions stipulated under RQP No. 58 of 2013. Failure to act in accordance with said instruction will result in legal action taken against Darrin Sherry for Royal Belizean Land Co. S.A" During the investigation, it was discovered that Royal Belizean Land Co. S.A., who was granted permission to dredge, was excavating in an area not approved.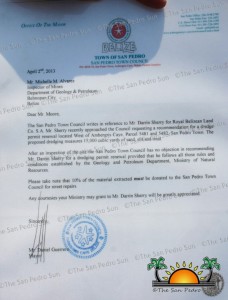 The dredging permit was reissued on March 8th, 2013 after the previous permit obtained had expired. According to Alvarez, at the time all the necessary requirements were met. "All the relevant departments such as Fisheries, Lands and the Department of Environment were satisfied that the requirements for the extraction of 5,000 cubic yards of material were met. The developer brought in the entire supporting document and he went through the environmental screening," said Alvarez. Those requirements were in regards to permission to dredge for the purpose of filling Lot Number 5481 and 5482 in the San Pedro Registration Section. Those properties are located directly south by southeast of Cayo Espanto or south of Cayo Romero. For the most part, the properties have some dry area but include patches of mangrove and wetland (swamp).
According to the permit, the material should have been extracted by suction dredge from existing burrow site with Universal Transverse Mercato (UTM) co-ordinates N-1979953 and E-394649. Those coordinates are in the small channel located just south of Cayo Romero. The conditions also indicated that if mangroves were to be destroyed, the permit holder shall obtain the necessary permit from the Forestry Department prior to cutting mangroves.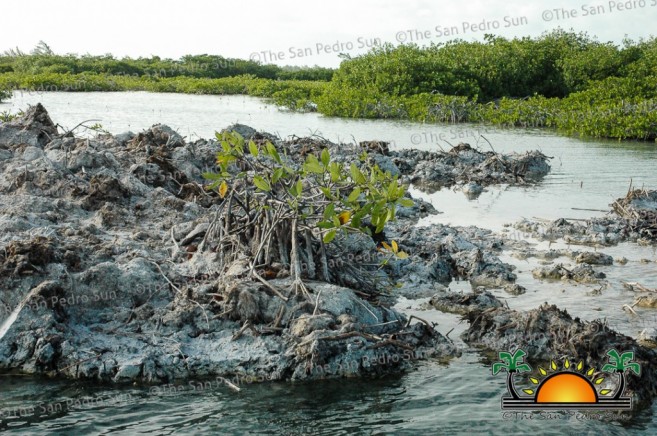 Documents obtained by The San Pedro Sun also showed that the owner had intended to dredge a total of 76, 917 cubic yards of sand, silt and mud. However the developer had divided the dredging into three phases; the first would have see 16,851 cubic yards of material dredged, the second 11,666 cubic yards and the third 48,400 cubic yards. The law requires an Environmental Impact Assessment (EIA) for any dredging exceeding 50,000 cubic yards of material. According to Department of Environment (DOE), obtaining permission to dredge by stages is known as "piece-mealing" something that is discouraged. An official at DOE also said that before any work could commence, a site visit would be required in order to have proper coordination.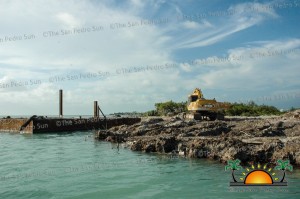 Speaking briefly to The San Pedro Sun via telephone, Sherry explained that no dredging had been taking place and that in fact they were conducting soil tests to see if there is the possibility and feasibility to develop the two properties. He said that those tests included "excavation" on 1.2 acres inside his property. An inspection conducted on Thursday April 25th spearheaded by the Mining Unit and the DOE confirmed that the developer had violated four of the 22 conditions specified under his permit. According to Martin Alegria, DOE's Chief Environmental Officer, "Evidence from the site visit is that there has already been some dredging activity occurring, approximately five hundred feet or so already dredged and filled; one filling up mangrove areas; secondly, not following the proper guideline in that we are made aware of the types of dredging in what location." The onsite investigation showed that material has been extracted from an area of dimensions 500 feet by 30 feet by 8 feet, when the approved dimensions were 200 feet by 100 feet by 6 feet. In addition, extraction was not done in the specified coordinates and was not done by suction as indicated on the permit. During the extraction, the permit holder did not ensure a proper buffer –minimum distance equivalent to 2 times the maximum depth of extraction from the shoreline. Moreover, the developer did not obtain permits to clear mangrove from the Forestry Department.
The actions by the developer and the permit granted by the relevant government agencies did not sit well with guides and other organizations on the island. In a release to the media on April 19th, the Ambergris Caye Citizens for Sustainable Development (ACCSD) asked the relevant authorities to issue a stop order on the development. "This area is a major fishing spot for the fly fishermen who visit this area on a daily basis. We cannot stress how very important it is to protect these areas as they are where all the fishes are hatched. The mangroves around this island are very important, they are our natural barriers against storms; provide a home for all the fishes that eventually make it to the reef which is our most precious natural asset. Destruction of these areas is simply not the right thing to do. Tourists come to fly fish in these areas, pumping millions of dollars in our local economy, which translates in revenue for the GOB, it simply doesn't make sense to keep destroying the very same areas that feed us. We strongly urge the relevant authorities to put a stop to this kind of illegal activity that seems to be happening on a regular basis," stated the release.
The San Pedro Tourist Guide Association also registered their objection on Thursday April 18th, when they sent out a press release stating that they were disappointed with GOB for granting permission to dredge and with the San Pedro Town Council (SPTC) for supporting such action. "Please revisit these decisions, which have been done in a hasty and untimely manner. Since the three species (Bonefish, Tarpon and Permit) have been placed on protection status, we also need to ensure that we protect their delicate and important habitats. This specific development is not properly thought and planned. Please send the developer back to design a more eco-friendly development. Mandate that an Environmental Impact Assessment (EIA) must be carried out," said the released, signed by President Phillip "Billy" Leslie.
The DOE confirmed that the developer has not submitted a plan or even an EIA. "Sometime late last year, in August or September, an application came in from the said developer asking/requesting permission to dredge and fill a thousand cubic yards maximum, to try to develop part of his property which is 1.5 acres to build a private residence of two stories, three bedrooms. And hence, you know, looking at that type of level of development, looking at the site there were some concerns. So we basically assured ourselves and wrote them back and said, 'You know, the site that you are thinking of developing is kind of sensitive. What you are proposing is a residential area. How will you get water, electricity, etc., etc.?'" said Alegria. He said that in line with a request for development, DOE had asked for a development plan. That plan was not submitted to any of the relevant agencies, including the San Pedro Town Council, who had given Sherry a letter of recommendation to the Mining Unit to grant the developer permission to dredge on April 2nd.
Sherry explained that he was conducting works on his property through contracted Engineer Froylan Alvarado and as such Alvarado had assured him that the necessary permits had been obtained. He also said that such "testing" was to determine the feasibility of further development.
Follow The San Pedro Sun News on Twitter, become a fan on Facebook. Stay updated via RSS