Denny Grijalva and three others charged for Noh Mul destruction
Friday, July 5th, 2013
On May 9th, when news broke out that Noh Mul, a Maya ruin located 10 miles north east of Orange Walk Town was bulldozed for rural road repairs, it caused international outrage. It made news on almost every major media network across the world, and in Belize it was met with fervent condemnations. Since then, Belizeans have been holding the Government of Belize (GOB) to task in charging those who were responsible for the reckless destruction of Noh Mul. Charges have finally been made and a total of four people have been criminally charged.
On the afternoon of Friday June 28th, owners of DeMar's Stone Company Denny Grijalva and his wife Maria, foreman of the company Javier Nuñez and excavator operator Emil Cruz were escorted to the Corozal Magistrate Court to face charges. The Grijalvas and Cruz were charged for willfully damaging an ancient monument and removing earth from an ancient monument while Nuñez was charged for causing the destruction of an ancient monument. All four pleaded not guilty and were offered bail in the sum of $5000 plus a surety in the same amount.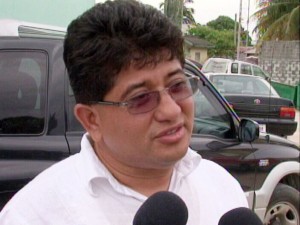 Since the destruction of Noh Mul, Grijalva has avoided the media and has refrained from making comments. Back in May, however, Grijalva issued a statement expressing that his company was sorry for what had happen and indicated that DeMars was responsible for what had happened. When exiting the courtroom he was swarmed by the local press for comments. "As you know, I am a man of integrity and I believe in the process of the law and that is what happened today here. So we are proud that we started the process and we will keep you guys informed as the case advances," said Grijalva. When asked why there was a change of mind in that he pleaded not guilty as one of the owners of the company when he had originally accepted fault, Grijalva was cagey in responding. "Let's wait…let's wait until the case is done and then we can disclose everything. As I said I can't comment on that because the case [has not] started yet. Today they have just given us the charges. They charged the company and the other guys," said Grijalva.
The charges brought before Mr. and Mrs. Grijalva and two others is a small victory for the Institute of Archeology but despite the legal process, Dr Jaime Awe has expressed that "irreparable damages" have been made to the Maya site. He said however, that several international organizations have offered support to see what historical data can be salvaged.
The Grijalvas, Nuñez and Cruz are expected to appear in the Orange Walk's Magistrate Court on August 20th. Director of Public Prosecutions Cheryl-Lynn Vidal will be the prosecutor for the Government of Belize.
Follow The San Pedro Sun News on Twitter, become a fan on Facebook. Stay updated via RSS