Successful surgery performed on American Crocodile
Friday, September 6th, 2013
The American Crocodile Education Sanctuary (ACES) along with Doctor Isabelle Paquet-Durand have successfully completed surgery on a rescued American Crocodile. The crocodile was recovered with a large laceration on its right hind leg from the San Juan area on Tuesday, August 27th after ACES received several reports of a problematic crocodile roaming in the streets and yards of nearby houses. ACES quickly acted on the information and removed the croc that had a notable wound on one of its legs.
According to ACES biologist Cherie Chenot-Rose, the crocodile was dragging its hind leg and had a large open cut on the right hind leg. "The crocodile was impaired when we rescued it. The cut was clearly made by a machete and was prone to infection if not treated," said Rose.
The wound was severe and needed urgent veterinary care to stitch it up so it could heal properly. Dr. Isabelle Paquet-Durand from Belmopan was contacted to perform the surgery. Dr. Paquet-Durand travelled to San Pedro Town on Sunday, September 1st, along with a couple of her students and two other veterinarians.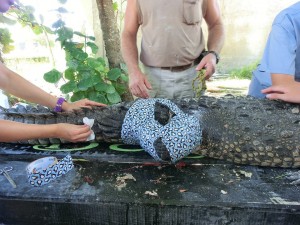 Before the surgery, the crocodile was placed under local anesthesia, after which Dr. Paquet-Durand proceeded to disinfect, clean and stitch the wound closed. In order to secure the wound, the crocodile's leg was cast and secured to its body. The entire procedure lasted approximately two hours. The crocodile will be held in captivity at the San Mateo Sanctuary until the wound is fully healed, "It will take about a month until the wound heals as crocodiles have a slow metabolism. Once the wound is healed, however, we can actually assess the mobility that the croc has in its leg. There is a 50% chance that the crocodile will not regain complete mobility of the leg since the wound was so grave," said Rose.
Rose also stated that while relocating a couple of crocodiles that same night, ACES encountered a gill net at a channel entrance to the northernmost part of Laguna de San Pedro. The net was approximately 250 feet long and extended across the entire width of the lagoon entrance. Such nets are illegal and should not be utilized in the area; ACES confiscated it and rescued a couple Bonefish (a protected species) that had been trapped in the net. Unfortunately, some of the fish were already dead.
ACES handed over the net to relevant authorities for further investigations.
ACES would also like to remind residents to avoid feeding crocodiles and to report any problematic crocodiles immediately. Not only is it illegal to disturb American Crocodiles, but it is also dangerous to handle them. To report a problematic crocodile, contact ACES at 666-3871 or 631-6366. Chenot-Rose would like to take this opportunity thank everyone that contributed toward bringing Dr. Paquet- Durand to the island and making the surgery possible.
Follow The San Pedro Sun News on Twitter, become a fan on Facebook. Stay updated via RSS