Jaguar hide recovered off San Pedro Town streets
Thursday, December 12th, 2013
The jaguar, scientifically known as Panthera Onca, is an endangered species and is protected in Belize. So when a volunteer for a wildlife conservation organization on mainland Belize spotted a man attempting to sell a jaguar hide on the morning of December 8th, they quickly snapped a couple photos. The photos were then posted on the Belize Wildlife Conservation Network Facebook page, which put the wheels in motion for island residents to notify the San Pedro Town police. An investigation led to the recovery of the jaguar hide on Tuesday December 10th, sometime around 7:30PM.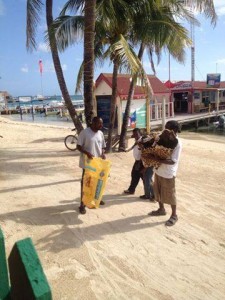 According to San Pedro police, several reports accompanied by photographs, were made of a Creole male selling the hide on Sunday December 8th on the beachside. The recovered jaguar hide is believed to be that of an adult and measured over four feet in size from the collar bone area to the hip bone (near upper tail area).
Police Constable John Arana said that they received the report on Sunday and immediately began an investigation to recover the hide as well as the person selling it. PC Arana said that after receiving several leads, they visited an empty lot where they found the hide carefully hidden. No one was in the area, but police are looking for the man who had been photographed as he attempted to sell the skin on the beach.
According to the Wildlife Protection Act Chapter 220 of the Substantial Laws of Belize Revised Edition of 2000, Section II Part Three, it is against the law to hunt, capture, and be in possession of any part of several animals, including the jaguar. Jaguars are the third largest cat in the world, after the tiger and lion, but it is the largest feline in the Western Hemisphere. In 2012 it was estimated that there are approximately 750 jaguars in Belize.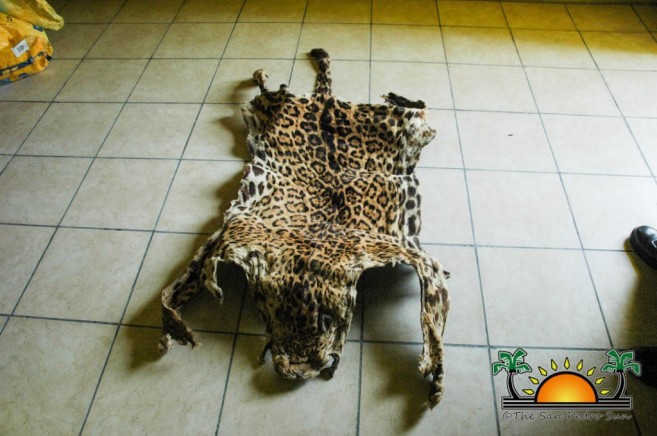 So far, information gathered by police indicates that the jaguar hide was brought in from the Maskall Village in the Belize District. Arana said that the black market value of a jaguar hide ranges, depending on the size, and that the current jaguar hide is estimated to have a black market value of $2,500.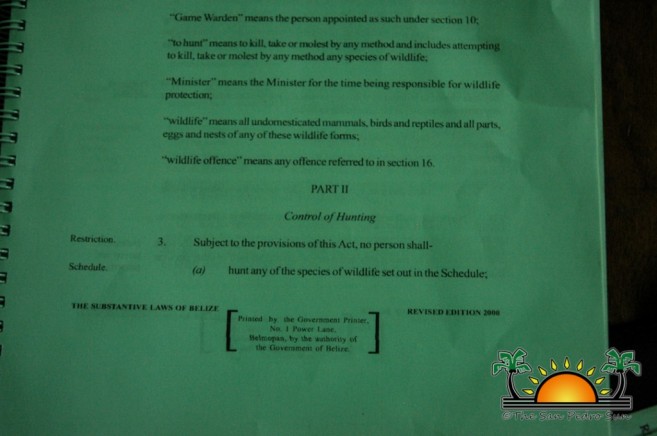 The hide was received by Chris Summers of the American Education Wildlife Sanctuary who transported it to the Belize Forestry Department. Anyone who can help police with additional information that can lead to the arrest of the suspected individual is encouraged to call the San Pedro police at 206-2022.
Photo Gallery
Follow The San Pedro Sun News on Twitter, become a fan on Facebook. Stay updated via RSS